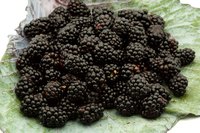 While Kentucky may be known for things like the Kentucky Derby and bourbon, the state's plant population may be just as important, especially when it comes to surviving in the wilderness or simply finding a free foods for the dinner table. Before you go foraging, however, you need to be able to determine which plants are edible and which are not.
Watercress
Wild watercress is found in pond or streams, and they look like floating lettuce, except that the leaves are more flat than traditional lettuce. The leaves of wild watercress range from flat and round to long and straight. While these plants are most often found in the water, they can also grow right along the shore. To harvest this plant, simply remove some of the sprig of leaves, but leave the roots alone. If you pluck them all the way down to the roots, the plant will die. Watercress can be used fresh in salads or cooked in certain ethnic foods.
Chickweed
This herb is commonly found during the summer months since it is an annual, and these plants have the characteristics of succulents with almost waxy-like leaves. The leaves have a point, but they are rounded in the middle. The plant makes white flowers, and the buds of the flower will droop towards the ground before they bloom. A distinguishing feature of this plant is that the leaves will cocoon over the new buds and shoots to protect them from the colder temperatures. These plants should be collected from May to June, and they can be used fresh or dried for storage. This herb can be used in salads or use it in traditional meals as a substitute for spinach.
Blackberry
Blackberries are known to grow throughout Kentucky, and these plants will generally grow in mounds. Blackberries produce a black fruit with individual circular nubs. The leaves are ribbed with a pointed end and squat, rounded body. The blackberry bush does have thorns, so gloves and long-sleeves should be worn when collecting these fruits. Blackberries can be eaten fresh or used in baked goods, especially pies.
Spring Onions
Spring Onions, or scallions, grow throughout the state, and they are distinguished by their small white bulbs and long green stems. The entire onion is edible, but the roots at the bottom should be removed before consuming them. These onions tend to have a stronger flavor than traditional green onions, but they can be used for the same purposes.