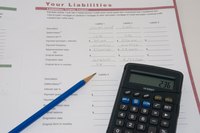 A non-qualified retirement plan is one that meets neither the IRS nor ERISA requirements for advantageous tax treatment. (ERISA refers to the Employee Retirement Income Security Act of 1974, which set forth legal guidelines for pension plans.) Employers fund non-qualified retirement plans that contain more flexible provisions than qualified retirement plans. The benefits paid upon retirement are taxed as ordinary income, but are then eligible to be put into an IRA in order to defer taxes.
Reporting Requirements
Both IRS and ERISA rules dictate benefit limits, eligibility and vesting rules, as well as strict reporting requirements. While all qualified plans must meet such regulations, non-qualified plans are not subject to those mandates. This kind of flexibility generally suits those willing to accept a higher degree of risk, which can lead to greater returns but also to significant losses.
Tax Deductibility
In order for employer contributions to non-qualified retirement plans to remain completely tax-deductible, they have to be made permanently and cannot subsequently be touched at any time by the employer. As this decision is irrevocable, employers must be careful in determining the amounts given to such plans.
Taxability
While investment income and employer contributions to a qualified retirement plan are never taxed, this is not necessarily the case for a non-qualified plan. In order for the non-taxability provision to apply, participants must demonstrate a "substantial risk of forfeiture" regarding the benefits received. Such opinions are generally best left to a qualified tax professional.
Availability to Creditors
As opposed to qualified retirement plans, which offer ironclad protection, the assets within a non-qualified plan are generally available to creditors in the event of judgments and defaults. This fact alone often makes such plans less desirable, as retirement plans exist primarily in order to provide longer-term security.