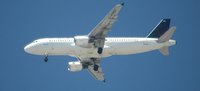 The Transportation Security Administration (TSA) enacts strict rules about items that can be brought inside the cabin of an airplane. Sometimes these rules can be confusing, especially as they pertain to acceptable medical supplies. The general rule is that all medications are allowed on board once they have been screened. To avoid delays, many diabetics make sure to inform security about their condition before they pass through the required checkpoints.
Insulin and Supplies
All insulin and pre-loaded insulin dispensers and blood testing supplies are allowed on domestic flights, including vials, injectors, infusors, syringes, lancets, glucose meters and test strips. Used syringes can be transported, but must be in sharps disposal containers. All insulin should be clearly identified, but does not need to be labelled individually. You should inform the security officer that you are diabetic and are carrying supplies. The insulin and supplies will need to be security screened before you are allowed through the security checkpoint.
Insulin Pumps
If you have a subcutaneous insulin pump and do not want to walk through the metal detector, you have the right to request a full-body pat-down and a visual inspection of the pump instead. You will need to let the security officer know that you cannot remove the pump because the catheter is inserted under the skin. You can request a private screening area for the visual inspection and a paper drape for added privacy during the pat-down.
Visual Inspection Rules
The TSA allows passengers on domestic flights to request a visual inspection of any medication, instead of the usual X-ray. You must request the inspection before you place any items on the X-ray screening belt. Keep your medication and supplies separate from your other luggage as you approach the X-ray and metal detector. Tell the security officer that you would like to request a visual inspection of your medication. You do not have to give a reason. You will have to unpack, handle and repack the supplies and medication yourself while the security officer inspects them. Any of the supplies that can't be cleared visually will have to go through the X-ray.