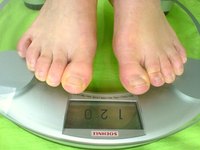 The Tony Ferguson Diet is a shake-and-soup diet focusing on low glycemic index (GI) foods and low caloric intake. The main structure is to replace two meals a day with a Tony Ferguson diet shake or soup, have a third meal consisting of protein and vegetables, and round out daily nutrition with two servings of low GI fruit and at least three cups of low GI vegetables. Additionally, Tony Ferguson Diet Jelly may be consumed throughout the day.
Low Glycemic Index
The glycemic index (GI) was originally developed to determine which foods affect diabetics' blood sugar levels the greatest, and is often referred to as "low carb," but is actually more of a "specific carb" diet. According to the Glycemic Index Foundation, low GI foods are ones that are found to produce only a small change in blood glucose (sugar) and insulin when eaten and digested. The weight loss effects found from consuming foods that are low in GI rating were basically the icing on the cake.
Definition of Low GI
The Tony Ferguson Diet provides a list of pre-approved vegetables and fruits, but having an understanding of GI values can help dieters expand their list and avoid monotony in their food intake. A food is considered low GI if the glycemic index rating is 55 or less. Medium GI is considered to be 56 to 69, and high GI is 70 and up.
List of Low GI Vegetables
The following are considered safe for low GI food consumers:
Alfalfa sprouts Asparagus Beans, green/wax Bell peppers Bok choi Broccoli Brussels Cabbage Carrots Cauliflower Celery Collard Cucumbers Eggplant Greens Kale Kohlrabi Lettuce Mushrooms Mustard Okra Olives Onions Peas Peppers, hot Pickles Potatoes, boiled Radicchio Radishes Rapini Snow peas Spinach Sprouts Sweet potato Swiss chard Taro Tomatoes Zucchini
Potatoes and sweet potatoes that are eaten with their skins have also been found to produce a significantly lower blood sugar spike than when eaten without the skins.