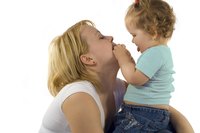 Mary Kies received a patent in 1809 for her process that used silk to weave straw. It was the first time a woman received a U.S. patent. Women were prohibited from applying for patents before then and Kies' achievement proved to be a milestone for women that paved the way for future female inventors. Many organizations provide grant money to help women fund the invention process.
Huggies - MomInspired Grant
The MomInsprired Grant Program, sponsored by Huggies, awards grants for business startups and ideas for new products. Grants are awarded in the amounts of $1,000, $5,000, $10,000 and $15,000. Business and product ideas do not have to be related to diapers but must promote a nurturing relationship between a mother and child. Applicants must also be at least 21 or older to apply. Grant requests are accepted each year between April and June.
Huggies 401 N. Lake St. Neenah, WI 54956 877-582-4666 huggies.com

Moms in Business Unite - Mompreneur Grant
Moms in Business Unite, an organization providing mentorship for businesswomen, offers the Mompreneur grant to moms who are business owners. Applicants must offer an innovative service or product invention that differentiates the applicant's business from other businesses. The grant competition requires a clear plan for growth. Deadline for submission is in July and grants are awarded in October.
Moms in Business Unite San Diego, CA 619-548-1821 momsinbusinessunite.com

The Edison Inventors Association
The Edison Inventors Association has partnered with The Sotenberg Fund to assist inventors. Inventors compete for $2,000 awards to be used toward expenses. The grant may be used to fund prototypes and to pay for fees associated with the patent application process, including attorney fees. Inventors must be U.S. citizens and members of the Edison Inventors Association to apply. Applicants must also have an application for patent in progress or received a patent within the 12-month period prior to applying for the grant. The foundation makes its selection based on the originality of the invention, the potential benefit of the invention and the viability of the applicant's business plan.
Edison Inventors Association P.O. Box 07398 Fort Myers, FL 33919 239-27504332 edisoninventors.org

U.S. Department of Energy - Inventions and Innovations Program
The U.S. Department of Energy (DOE) sponsors the Inventions and Innovations grant program. Grants are awarded in the amount of $40,000 and are competition-based. Proposals for grants are accepted from September until June. Recipients are selected in October. Participation in the Inventions and Innovations grant competition requires an energy-saving idea with potential use in the commercial market. Other factors that influence the selection process include: the number of prior grants received, the potential for energy savings and the amount of DOE funding available. The requirements are stringent for applicants and recipients as well. The initial steps include: the application process, preliminary evaluation and competitive solicitation. The recipient is required to submit status reports and data with updates for 10 years after receiving the grant.
U.S. Department of Energy 1000 Independence Ave. Washington, D.C. 20585 202-586-5000 energy.gov