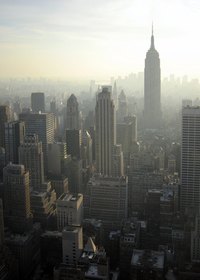 Rated one of the top-30 most expensive cities in the world by Businessweek, New York City isn't exactly easy on the pocketbook. Visitors to Manhattan will find that hotels and restaurants are costly, not to mention the additional expenses for the obligatory tours, Broadway shows and attractions that make a trip to the Big Apple complete. But there are ways to tackle "the city that never sleeps" without coming up broke—especially if you're a student.
Lincoln Center for the Performing Arts
Starving students should grab their student IDs and head directly to Lincoln Center for discounted--and sometimes free--performances. As the largest performing arts center in the world, Lincoln Center features music, opera, dance, film, and theatre performances. Students enjoy 50 percent off Chamber Music Society concerts, free concerts at the Julliard School, and discount tickets to Film Society events, jazz shows, operas and ballets.
Lincoln Center for the Performing Arts 70 Lincoln Center Plaza New York City, NY 10023 212-875-5000 lincolncenter.org

Broadway Student Rush Tickets
Students who don't mind standing in line at a theater box office as soon as it opens should opt for student rush tickets. On the morning of a show, students come armed with their student IDs and cups of coffee to snag seats at the hottest shows on Broadway. It's not unheard of to get front row seats for $20 this way, while the general public pays hundreds more.
Broadway.com & Theatre Direct International 729 Seventh Ave., 6th Floor New York, NY 10019 212-541-8457 broadway.com
Museums
Some of New York City's most well-known museums let students in at discounted rates. The Metropolitan Museum of Art, which offers student tickets for $10, includes more than 2 million works of art—some of it 5,000 years old. For dinosaur bones and other scientific collections, try the American Museum of Natural History for a student price of $12. The Museum of Modern Art charges a student admission of $12.
Metropolitan Museum of Art 1000 Fifth Ave, New York, NY 10028 212-535-7710 metmuseum.org
American Museum of Natural History Central Park West at 79th Street New York, NY, 10024-5192 212-769-5100 amnh.org
Museum of Modern Art 11 W. 53rd St New York, NY 212-708-9400 moma.org