Unless you are adept at sleeping on your back, you are likely adding wrinkles to your face every time you sleep. You've seen them--each morning when you wake and see the "sleep lines" written in your face from where you pressed against your pillow while sleeping on your side or stomach. The younger you are, the faster they're gone, but over time, they can begin to imprint more deeply. Buying the right pillow can help you reduce these lines to stay wrinkle-free longer.
Adjusting the Basics
You don't have to spend a lot to get some improvement in reducing lines and wrinkles. The firmer your pillow is, the more likely it is to increase wrinkles. Skin Care for Wrinkles points out the soft qualities of antimicrobial feather pillows. These pillows will quickly conform to your face without forcing any unnatural lines or creases as you sleep. Cotton or other highly absorbent materials as pillow covers can also contribute to drying out your skin. Skin Care for Wrinkles recommends investing in satin or silk pillow cases that will encourage your skin to glide across the surface of the pillow rather than drag on the fibers. These fabrics are also less drying than cotton and help distribute natural oils.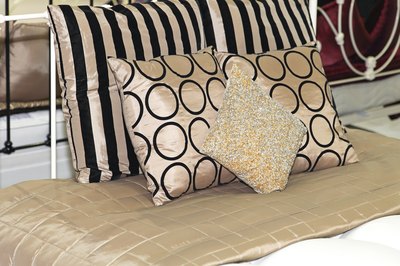 Anti-Wrinkle Pillows
New pillows have hit the market that are designed with side and stomach sleepers in mind. These pillows are purposely created in a different shape, such as the Save My Face pillow shaped as a joined double crescent. This pillow is actually recommended by the Skinny Dip Skin Clinic for people recovering from cosmetic surgery. The idea of these pillows is that your head will be supported at the same time pressure is relieved from the delicate cheek area. Other antiwrinkle pillows are shaped somewhat differently, but all have the same basic goal in mind--to provide support for the bony areas of the face and relieve pressure in the softer spaces.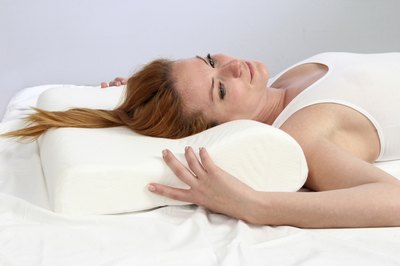 Pillow Covers
Science is beginning to discover that pillow covers, if made from the correct material, may also play a role in wrinkle reduction. The Thaindian News reports on a study in which participants using specially made copper oxide fabric pillow covers had fewer wrinkles at the end of the study period than those using typical cotton covers. The Fountain of Youth reports that this type of material has been used with success in helping skin healing in hospitals because the copper helps stimulate collagen production under the skin. The moisture released from the skin while you sleep actually helps to release the copper ions from the pillow cover and these ions encourage more youthful-looking skin at a subsurface level.