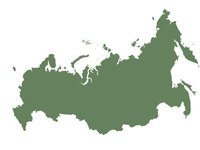 Because of its vast size, Russia has several climate regions. However, the two most common climates are the continental climate east of the Ural Mountains--the Asian half of Russia--and maritime climate west of the Ural Mountains--the European half of Russia. There are also smaller climate regions, with one of the more prominent ones being the subarctic climate in the north.
Continental Climate
Most of Russia east to the Ural Mountains is continental climate. Typically, continental climates have hotter summers and colder winters because they are far from the ocean, which is an important factor in mild climates. The range between summer and winter temperatures can be about 40 degrees Celsius. This sometimes results in severe swings, such as the extreme heat wave of Summer 2010. Most of Russia's fertile farmlands are in this climate region.
Maritime Climate
Due to its proximity to the Black Sea, the region of Russia to the west of the Ural Mountains has a maritime climate. Marked by mild winters and cool summers, maritime climate registers temperatures in a much smaller range than continental climate. This is because it takes ocean water a long time to heat up, but it retains this heat throughout out the winter. Maritime climates get a steady amount of precipitation throughout the year and are normally fairly humid.
Subarctic Climate
Russia has other smaller climate regions in addition to the predominantly continental and maritime climate regions. The largest of these other regions is the subarctic climate, which comprises almost of Siberia in the extreme north of Russia. Subarctic climates have very long and cold winters, and a short, mild summer. Siberia also has a very low amount of precipitation and very little vegetation because the soil is often frozen for more than half the year.