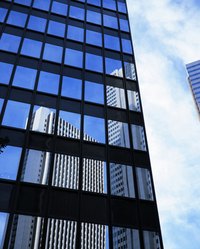 Commercial real estate owners lease business property to businesses which can include leasing office space or renting apartment communities to property management companies. Because the nature of commercial real estate involves potentially larger risks than single residential rental transactions, liability exposure problems are increased. State laws typically govern rental transactions, and each state imposes different rules, but there are federal laws that apply to all commercial leases.
Fair Housing Act Discrimination Laws
The Fair Housing Act prohibits discrimination against individuals based on national origin, gender, disability or family status. Commercial real estate owners may not rent its commercial leasing space based upon discriminatory factors or use discriminatory advertising to limit applicants based on these factors.
The Americans with Disabilities Act (ADA) Discrimination Laws
The ADA requires businesses accessible to the public or that employ more than 15 workers have publicly accessible premises. The commercial property owner should negotiate with the tenant who pays for necessary modifications and payment terms for widening doorways or placing ramps on the premises for wheelchair accessibility.
Environmental Protection Laws
The Environmental Protection Agency (EPA) governs state hazardous waste regulations to ensure state residents are complying with mandatory federal environmental regulations. Each state implements hazardous waste programs, which prevents residents from disposing of hazardous waste in public areas not designated as hazardous waste repositories. Each state sets up treatment, storage and waste disposal facilities to dispose of hazardous waste chemicals. Commercial owners may have responsibilities under state laws to enforce these federal laws and ensure its tenants comply with the regulations.
Asbestos Bans and Phase-Out Laws
The EPA banned many "new-use" products that contain asbestos. Federal regulations ban asbestos products such as some types of flooring and commercial roll-board in buildings. State and federal laws mandate commercial property owners comply with the existing and new regulations to avoid causing potential injuries to its tenants and public customers.
Fire Escape Laws
Fire escape regulations require commercial property owners to implement fire escape plans for historic buildings that may not be up to current code. Buildings must contain means of escape or egress in emergencies. The Housing and Urban Development agency implemented new regulations to its federal disability and rehabilitation laws to reflect the new codes. The Occupational Safety and Health Administration (OSHA) require employers implement fire safety plans under Section 5(a)(1) of the Occupational Safety and Health Act. Since commercial property owners lease space to businesses that employ private sector employees, OSHA laws apply to property owner and tenant.