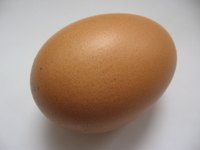 Moderate egg consumption can give rise to many health benefits. An egg sold at a grocery store must meet a high quality standard. Eggs are inspected by candling, a process where each egg is passed over a strong light to show defects in the shell or interior. Through candling most defected eggs are removed; however, catching all defective eggs is impossible.
Meat Spots
A brown spot in a chicken egg is called a meat spot and will not harm you if consumed. Meat spots are excess reproductive tissue released from a hen's ovary following the formation of a yolk, and range in size from 0.5 to 3 mm. They may appear maroon, tan, gray or white. They are hereditary and more common in older hens. Aging blood spots can be mistaken for meat spots, indicating an old egg. Meat spots do not indicate that the egg is fertilized.
Blood Spots
Blood spots are caused by a rupture of blood vessels in the yolk sac. Occurring in less than 1 percent of eggs, blood spots appear red but turn brown with time, so a bright red spot indicates a fresh egg. Spots appear on or near the yolk, and are easily removed with a clean knife. Like meat spots, blood spots are safe for consumption.
Chalazae
Another freshness indicator is the chalazae that anchor the yolk. The two chalazae appear white and stringy. They are safe to eat and disappear during cooking. Chalazae dissipate over time, so thick ones are a sign of freshness.
Egg Whites
The egg white or albumen consists of two parts: the thick albumen surrounding the yolk and the thin albumen that encompasses the thick albumen. As an egg ages, the thick albumen becomes thinner and more watery, resembling the thin albumen. Egg whites appear clear but may be cloudy due to the presence of carbon dioxide, which escapes through the shell over time, allowing the white to become clear. Cloudy egg whites indicate very fresh eggs. Excess riboflavin gives a fresh egg white a green hue.
Egg Yolk
Yolk color comes from the types of grain in chicken feed. A lemon yellow yolk color reflects a wheat-based diet. An alfalfa or corn-based diet produces an orange-yellow yolk color. Over time, the yolk becomes flatter and breaks easily.
Shell Color
Determined by the breed of hen, the color of an egg varies from white to brown. White-shelled and brown-shelled eggs differ only in shell color. The darker shade of a brown-shelled egg makes it more difficult to identify meat spots by candling, though less than 1 percent of inspected eggs are removed because of meat spots.