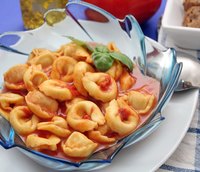 Exit 31 off the New York State Thruway (I-90) leads to the city of Utica, approximately 30 miles east of Syracuse and 60 miles west of Albany. Utica is 15 miles from Turning Stone Casino, making it a lodging and dining destination for tourists. Utica is renowned for Italian food and an escarole dish called Utica Greens. Exit 31 is near an array of restaurants in downtown Utica that serve various styles of Italian cuisine.
Delmonico's Italian Steakhouse
Delmonico's Italian Steak House is ½-mile off the thruway, offering dining-in, carry-out and catering services for daily dinner and weekend lunch.
Delmonico's starters include bruschetta, mushroom parmigiana, antipasto salad and Utica greens--escarole sautéed in olive oil and garlic and topped with prosciutto, bread crumbs and hot peppers.
The steak selection includes filet mignon, N.Y. strip, sliced sirloin prepared in a Cabernet wine sauce and the 24-oz. Delmonico rib-eye steak. Pork chops, veal parmigiana, chicken Marsala and frutti de mare--made with hot peppers, clams, calamari, shrimp and haddock over linguini--are also available. Pasta entrées include shrimp scampi, linguini with clam sauce, lasagna, ravioli and tortellini.
Delmonico's Italian Steakhouse 147 N. Genesee St. Utica, NY 13502 315-732-2300 delmonicositaliansteakhouse.com
Ancora
Ancora is about one mile from Exit 31, supplying a combination of Mediterranean-influenced dishes representative of French, Greek, Spanish and Italian cuisine. Ancora offers a tapas menu, dessert options and an extensive cocktail list.
Tapas items include fried meatballs, crab croquettes, Prince Edward Island mussels, ricotta crepe and chicken panini. Appetizers such as shrimp and lobster cocktail, roasted beet salad and placa fria–a platter consisting of cucumbers, feta cheese, olives artichokes, calamari salad, yogurt, hummus, sliced prosciutto and pita bread--are available. Ancora features entrees such as pork legs with Tuscan beans, seafood paella, seared lamb and chicken Françoise–served with fried polenta fritters and spinach.
Desserts include bananas foster, crème brulee and tiramisu. The drink list highlights white and red wine, and a plethora of specialty martinis such as the espresso, mocha, Key lime and raspberry cheesecake martinis.
Ancora 261 Genesee St. Utica, NY 13502 315-724-4815 cafecanole.com
Thornberry's
Thornberry's is two miles west of the New York State Thruway. This restaurant serves lunch and dinner, providing a casual sit-down environment in the dining room or bar area, and Italian-infused American fare.
Appetizers include Buffalo chicken wings, escargot, olive tapenade and shrimp cocktail. Salads, sandwiches and burgers are available, including grilled chicken salad, French dip sandwich and mushroom Swiss burger.
Thornberry's entrée options consist of N.Y. strip steak, meatloaf, rack of lamb, veal, chicken rigatonis and seafood dishes such as sesame ginger salmon and shrimp scampi.
Thornberry's 1011 King St. Utica, NY 13501 315-735-1409 thornberrysrestaurant.net‎