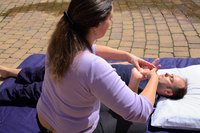 If you are a massage therapist, you know the challenge of growing and maintaining your client base. Brochures that promote your practice are an inexpensive way of marketing your services and letting people know what you have to offer. When putting together your brochure, make sure that it reflects the nature of your practice, and includes important information about fees and scheduling an appointment with you.
Design
The design for your massage brochure should reflect your practice. If you specialize in sports massage, for example, you may want a brochure that projects action and high energy, with bold colors and pictures of athletes. If you specialize in relaxing massage, you may want a softer look for your brochure, with mellow colors and nature-oriented illustrations.
Vital Info
A brochure about your massage services should include your contact and location information, as well as details about your credentials. At minimum, your brochure should include your name, phone number, email and website address. If you have an office, include its physical address. If you regularly practice in different locations, such as health food stores or at exercise clubs, you may want to direct brochure readers to your website so they can find out where you are currently working.
Remember to include information that establishes you as a professional. List the school or schools you attended as well as any certifications or licenses that you hold. If massage therapy is licensed in your state, your state licensing board may require you to list specific information on your marketing materials or require you to use a particular title or designation after your name. Contact your state board to find out about their regulations.
Fees and Incentives
Potential clients are often concerned about costs, so be sure to list your fees in the brochure. If you offer incentives or discounts, such as a package of several sessions for a reduced fee, be sure to mention them in your brochure. Another option is to include a coupon offering a discount to first-time customers. If you sell gift certificates, be sure to mention their availability so that people are inspired to buy them for friends and family.