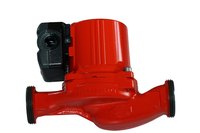 It is crucial to match a pump's capabilities with the process requirements and the characteristics of the liquid being transferred. Such capabilities include the inlet fluid conditions, the required flow rate, liquid properties and discharge pressure. Different types of industrial pumps function in different ways. The major types of industrial pumps are centrifugal, positive displacement and air-driven.
Centrifugal Pumps
Centrifugal pumps are the most widely used type of industrial pump. They transfer liquids in a wide range of capacities and sizes, and are chosen for a large variety of applications. The pump increases the velocity of the liquid, creating pressure on the discharge. Centrifugal pumps increase efficiency with an increase in liquid viscosity (thickness). The pump has a single impeller that spins, creating a suction of liquid into the pump casing. The impeller increases the angular velocity of the liquid and expels it into the discharge line.

Positive Displacement Pumps
Positive displacement pumps are high-pressure pumps that create flow from a pressure input. Internal gears, lobes or vanes rotate into and out of void spaces in the casing. This creates suction, pulling the liquid into the voids. As the pump rotates, the volume is compressed and the flow is released into the discharge line at a higher pressure. The flow is constant, but the discharge pressure can change, and there is an increase in efficiency with an increase in liquid viscosity.

Air Driven Pumps
Air-driven or air-operated pumps use compressed air to operate the pumping action. Air-operated pumps are used to pump a wide variety of liquids (thin and viscous) and slurries (liquid with entrained solids). Air-operated pumps deliver constant flow and high pressure, and can have internal rotors or a diaphragm. The rotors or diaphragm moves back and forth, creating and compressing voids in the casing, which sucks in liquid and discharges it at a higher pressure. Air-driven pumps do not use electricity so they are ideal where flammable gases may be present.