Patients, personnel and visitors in health care settings are exposed to potential infection risks on a daily basis. Multi-drug-resistant organisms, such as MRSA (Methicillin-resistant Staphylococcus aureus), cause numerous infections in the hospital setting. Policies and procedures must be in place to prevent the spread of these infections throughout the facility. The Centers for Disease Control and Prevention (CDC) created guidelines for administrative measures and standard precautions to prevent the spread of MRSA in healthcare facilities. According to the CDC, adhering to these standard precautions should control the spread of MRSA in most circumstances.
Hand Hygiene
Proper hand hygiene is a frontline defense against the spread of MRSA. Employees must wash their hands with soap and water after touching blood, body fluids, secretions and excretions; after removing their gloves, between contact with different patients, when hands are visibly soiled and as necessary to prevent the spread of microorganisms. Medical personnel may have to wash their hands between tasks performed for the same patient.
Gloves
Employees must wear gloves when they may reasonably expect contact with blood or a bodily fluid. This pertains to blood, mucous membranes, damaged skin and contaminated skin, such as with incontinent patients. The CDC guidelines state that employees must remove gloves and perform hand hygiene immediately after patient contact as well as after contact with a patient's environment or medical equipment. The CDC requires that employees wear new gloves for contact with each individual patient. Personnel must properly dispose of gloves and never wash or reuse them. Additionally, the CDC guidelines state that gloves and all other personal protective equipment must properly fit the employee.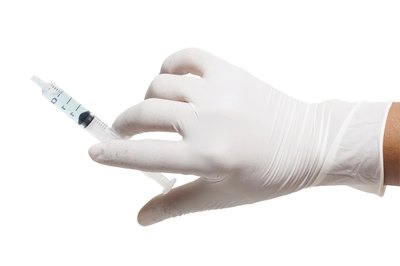 Face Protection
Employees in health care environments use goggles, masks and face shields to prevent mucous membrane contact and respiratory protection during procedures and patient care that may cause splashes of blood, body fluids, secretion and excretions. Healthcare personnel must assess the potential risks of each activity and select appropriate protection.
Gowns
Patients must wear gowns during procedures and care to protect their skin and clothing from contamination from blood and body fluids. Any activity in which the presence of blood or body fluids is likely warrants the use of a gown for protection.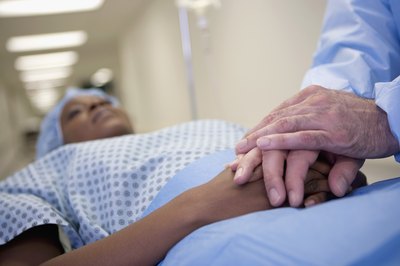 Equipment, Devices and Instruments
Personnel must handle soiled patient care equipment in such a way to prevent contact with mucous membranes, contamination of clothing and the spread of organisms to other patients and the environment. They must appropriately clean and process reusable equipment before reuse, and properly dispose of single-use equipment. Hospital staff must also clean and disinfect all surfaces in close proximity to an infected patient that are prone to contamination. They must handle soiled laundry in a manner that prevents contamination of surfaces, patients and the air.
Administrative Measures
The health care facility's administration implements all infection control policies and procedures. It must establish procedures to provide training, guidance and support, and to monitor adherence to infection control precautions--especially hand hygiene. An important aspect of these administrative responsibilities is the provision of funding and personnel needed to manage infection control. Specific components key to infection management are adequate infection control and protection staffing levels, microbiology laboratory support, sufficient supplies and equipment, training and education. Additional administrative measures include adhering to the Occupational Health and Safety Administration regulations regarding infection control and personnel safety in health care settings.