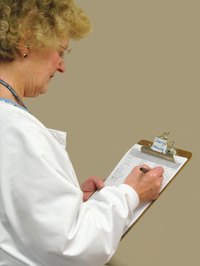 Administered jointly through the federal and state governments to provide insurance to low-income individuals with limited resources, Medicaid covers the costs of hospital and physician's visits. Medicaid may also include vision and dental care. Medicaid uses federally mandated asset rules to determine eligibility. To qualify for Medicaid benefits, applicants must prove access to limited assets and resources. The federal government requires states to try to recoup the medical costs expended to fund the Medicaid programs.
OBRA Requirement
In 1993, Congress passed the Omnibus Reconciliation Act (OBRA) to help fund the Medicaid program. Under OBRA, states are required to recover expenses paid on a Medicaid recipient's behalf if assets are available. Each state must implement asset recovery and mitigation plans to recover expended funds to cover Medicaid. Each state can recover assets from recipients who were over 55 years old when Medicaid help was given.
Trust and Estate Assets
Congress requires each state to look at all available assets when trying to recoup Medicaid funding. These requirements provide a way for states to recover Medicaid resources through trusts established by Medicaid recipients. Trusts benefiting a disabled individual do not count as recoverable assets.
Personal Property Assets
Personal assets including jewelry, heirlooms and clothing are recoverable. Medicaid rules allow the exclusion of one vehicle so long as it is used to transport the Medicaid recipient or the recipient's dependents.
Real Property Assets
The recipient's personal or primary residence is not a recoverable asset if the recipient's spouse or dependent is still living in the home. However, if the Medicaid beneficiary is unlikely to recover from the illness, the home is an asset. The Deficit Reduction Act of 2005 (DRA) uses a $500,000 floor of asset recovery. Thus, assets under $500,000 are not recoverable.
Life Insurance Assets and Prepaid Funeral Homes
Prepaid funeral expenses are not recoverable under the Medicaid asset recover rules. Additionally, life insurance proceeds with a small value or payout are not recoverable.
Transferred Assets
Medicaid rules prohibit recipients from excluding assets from recovery within the three years prior to Medicaid coverage. States can use a three-year look-back rule to collect assets. Under this rule, states have three years from the beginning of institutional or hospital treatment or nursing home care to recover assets. Therefore, any shifting or transfer of assets, which occurred three years prior to the date of hospitalization, is recoverable. The exception to this rule is if the Medicaid beneficiary transfers property to a disabled or blind dependent, a child or a spouse. Medicaid rules prohibit transfers to evade laws.