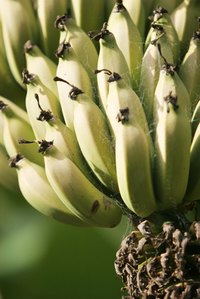 Amylose is one of the two different kinds of starch that are found in the chemical make-up of plants. Amylose accounts for about 30 percent of plant starch; the remainder is a starch called amylopectin. Amylose has a longer molecular structure consisting of glucose units. It is not easy for the human system to digest, and can, in excess, cause of weight gain, but it also provides energy as a source of carbohydrates.
Grains
The foods that have the highest amount of amylose are the grain crops and the products that are made from them. Wheat, rice, rye, barley and oats all have high levels of both kinds of plant starch, as they store it to provide energy for growth. Products derived from these grains will have a similarly high level of amylose as it is not cost-effective for commercial food companies to try to eliminate it.
Root Vegetables
Vegetables that grow underground have comparatively more amylose that those that grow above ground. They have denser structures than branch-ripening species. Potatoes have the highest content, particularly if the skins are eaten as well. However, according to GMO Compass, scientists have genetically modified potatoes to contain only the amylopectin starch, which is easier for the body to absorb.
Parsnips, carrots and leeks also have high amylose contents.
Bananas
Bananas have the highest amylose content of all fruits. The amylose content can vary between species of banana, but green ones have the most starch. The amylose remains in products derived from bananas as well, such as banana cake.
Manufactured Items
Because amylose is a tough, resistant form of carbohydrate, it is often used in the manufacture of food products as a binding or stabilizing agent. It is used in sauces and syrups, such as corn syrup, to regulate the consistency of the liquid. It is also increasingly found in synthetic substitutes for natural casings, such as sausage skins.