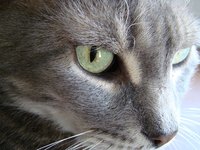 Aggression in cats can be caused by stress, anxiety, jealousy and other external factors. The first step to solving aggression should always be a look at external factors that can be changed or adjusted. Following these changes, natural herbs may offer calming solutions. Like any medication, herbal treatments have side effects. Always consult your vet before giving your cat any type of medical therapy.
Skullcap
American Skullcap (Scutellaria lateriflora) is an herb that soothes the nervous system by introducing anti-inflammatory and anti-spasmodic agents into the system. This reduces stress and excitability, two of the main causes of aggression in animals. Skullcap has a history of use in Traditional Chinese Medicine and other herbal therapies as a relaxant. It should not be confused with Chinese Skullcap (Scutellaria baicalensis) which is a different herb used to treat other ailments, such as allergies and headaches.
Chamomile
Chamomile (Anthemis nobilis) is an herb well known for its calming properties, widely used in teas for human consumption. It may also be effective for irritable or excitable cats. It is a common ingredient in many manufactured natural pet remedies, including shampoos and cleansers, since even its scent may produce a calming effect.
Belladonna
Belladonna (Atropa belladonna L.)--sometimes called "deadly nightshade"--is a potent herb, as its common nickname would imply. The herb contains active ingredients that have antispasmodic properties, thereby reducing heart rate and promoting relaxation.
Manufactured Herbal Remedies
Some holistic pet health companies manufacture products to correct behavior problems in cats and dogs. Feliway is a synthetic product that replicates a feline pheromone. Using the Feliway spray, you can mark an environment as safe, reducing stress in a new or changed environment. PetAlive Aggression formula is an oral medicine containing Skullcap, Chamomile, Belladonna and other natural ingredients. It promotes calm and reduces aggression.