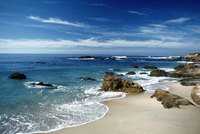 Mini vacations are compressed getaways -- long weekends or short journeys that allow just enough time for relaxing and recharging without the planning anxieties that can come with extended breaks. California is an ideal state for a mini vacation because of its diversity of seasons, geography and recreational opportunities. Each direction offers the sea, the mountains, the desert or the city.
Catalina Island Mini Vacation
Catalina Island has 42,000 acres of nature preserve that will appeal to birdwatchers, hikers and nature enthusiasts. The elusive Catalina fox can sometimes be seen, as well as American bison and eagles. Take a ferry or a helicopter to the island that's only 22 miles long and a mere 8 miles wide. The island offers beaches, boat tours and fishing opportunities, or you can spend your days strolling through the towns of Avalon and Two Harbors.
Desert Hot Springs Mini Vacation
Palm Springs is the winter playground for the Hollywood set, according to "San Diego Magazine." Unless you have a script to pitch, head to Desert Hot Springs as your alternative inland getaway. The city is fortunate in its geography. In addition to astonishing mountain views, Desert Hot Springs is on top of a natural hot spring, which provides a number of thermal baths and mineral soaks. Book a weekend of spa treatments in between rounds of golf and make sure you taste the award-winning city drinking water.
Mammoth Lakes Mini Vacation
Mammoth Lakes in northeastern California attracts skiers and snowboarders as soon as the snow sticks, but it also makes an enjoyable mini vacation in the other seasons. There's hiking and fishing as well as golfing and swimming. Winter steals the show, however, with ski and snowboard lessons, a large play area where little kids can have fun in the snow and plenty of downhill tubing. Gondola rides take guests to the summit of Mammoth Mountain and snowmobile tours take visitors through pine forests and untouched meadows.
Wine Country Mini Vacation
Santa Barbara's wine country is close enough to Sonoma County's wine country that there's no reason to choose one over the other. Sample wines in the Santa Ynez valley at the Rideau Vineyard, Toretti Family Vineyard, Buttonwood and Lucky Dogg Winery. Then head north towards the Redwoods and the Sonoma wineries, which include Francis Ford Coppola's winery in Geyserville, Benziger Family Winery in Glen Hill and Landmark Vineyards in Kenwood, to name a few. If you bring the kids, you can stop off at Mrs. Grossman's Sticker Factory in Petaluma and the Sonoma Train Town Railroad, which also features a petting zoo and rides.
Campground Mini Vacations
Camping provides a mini vacation from home and its conveniences. If getting back to nature is your idea of fun, check out the California campgrounds. Head to the high Sierra Mountains and fall asleep with a view of the sequoias. In southern Orange County, you can go horseback riding and scuba diving and then stay close to Laguna Beach at the Crystal Cove Campground. When cabins are more your style than sleeping bags, try El Capitan Canyon outside Santa Barbara.