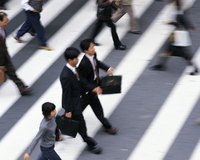 Quality management is the key to proving your success. You could be the best manger on the planet, but if you cannot clearly demonstrate your progress to your board you'll never get the raise you deserve. Developing a quality management system to improve and document the quality of your business is an essential first step toward a thriving career in business management. All you need to do is implement a system that works for your unique business. But don't rush the process; the International Trade Forum suggests that you set aside about 12 to 18 months to develop your system.
Management Commitment
No quality management system will work without buy-in from your board or administrative agency. The first step to developing your system is to clarify the goals of your administration and make sure that leaders understand the role of quality management in achieving and documenting those goals. You need them to commit to providing the authority and the resources you need to implement a system of total quality management.
Choose your team members
Work with a wide variety of staff members as you develop your system. You need line staff to contribute hands-on expertise in the safety standards and quality controls of your production process. You will need supervisors to contribute scheduling and work-flow data. You may even want to include customers or regulators on your team. This broad-based group will work together to decide which standards you will measure and how you will conduct your measurements.
Status survey
Working with the priorities set by your team members and your administration, conduct a status survey. This survey is meant to measure the current state of affairs in your business. Make sure you choose variables that are consistent and measurable, because the results of this survey will serve as the baseline for all your other measurements. You should be able to easily repeat your survey to get valid comparison data and demonstrate your progress.
Train your staff
Once you have a baseline status survey completed, you are ready to train your staff about the variables you will be measuring and how they can contribute to the success of the company. For example, if you are measuring sales, train your sales staff so that they can consistently documents their sales statistics. During the first few months of training, run comparison data to see if you are getting consistent results. If the data are not being recorded consistently, consider repeating the training or streamlining the way you collect data.
Review and Revise
As you collect data through your quality management system, you will be able to make knowledgeable decisions to improve production. For example, if your data show a slowing of production on a certain line, you can concentrate on reviewing work flow in that area to determine where the system is breaking down. You can also target raises and other reinforcements to areas that show improvements in quality management. Review your quality management system results with your administration on a regular basis to demonstrate your success as a proactive quality business manager.