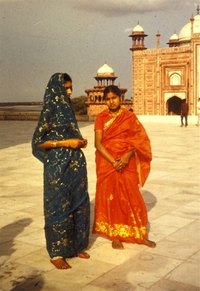 Indian girls typically have two different kinds of hair; straight or slightly wavy. The traditional styling for Indian hair is to slick it down tightly with oil and form it into a bun near the nape of the neck. However, for the modern Indian girl there are many hairstyle alternatives, including many curly styles.
Long and Flowing
Use mousse and scrunch long, wavy hair. Indian girls with naturally curly hair generally have loose waves. This hairstyle is attractive when it grows long down the back. The gentle waves provide a soft effect. Scrunch wet hair with fingers to enhance this style, or apply a mousse all over the hair before scrunching. This holds curls in place and prevents fly aways.
Shoulder-length Curls
Use a large-barrel curling iron to create shoulder length curls for Indian girls with shorter hair. Use a large-barrel curling iron, along with styling mousse, and create large curls near the base of the hair along the shoulder line. Flip the head over and run fingers through it gently to break up the curls for natural looking curls. Spray with hairspray to hold.
Curly Wisps
Create loose, lovely curled hair with a curling iron. Take a few random strands of hair and wrap them around the barrel of the curling iron making face-framing wisps. This creates the hint of curly hair, but does not have the high profile of tightly curled hair. Curling just a few wisps of hair creates waves that look amazing with Indian hair.
Hot Rollers
Create volume and bounce with natural looking curls with the use of hot rollers. Hot rollers come in different sizes, creating varied sizes of curls all over the head to mimic naturally curly hair. Use styling mousse and hairspray to hold the curls in place. Shake the curls loose for gentle curls, or leave the hair in tight curls for a somewhat retro vibe.
Short Curls
Curl short hair with a curling iron. Create the curls using a large or small barreled curling iron, as short hair is often too short for hot rollers. Use the same styling products as with longer hair. Tousle the curls after curling to break up the severe curl line. This creates more natural-looking curls with soft, beautiful waves.