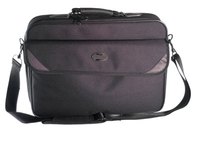 Interns often work onsite at companies for short periods of time. If an intern in your office has done a particularly great job or otherwise made her mark, a gift might be in order to mark the end of her internship and show your appreciation for her efforts. When selecting a gift, keep in mind the needs of a student and, of course, the particular person's tastes.
Laptop Bag
For a student on the go, consider a laptop bag. Look for a model that offers organization, such as pen holders, a business card pocket and room for storing computer accessories, such as a charger and travel mouse. This gift will show an intern that you value her contributions and wish her luck in her future endeavors as a businessperson.
Diploma Frame
If your intern is nearing graduation or is leaving for a full-time job after graduation, a diploma frame may be an appropriate gift. Look for a design that includes not only matting to display the diploma, but also an area to display the diploma tassel. This gift will last a lifetime, and the new graduate can hang it on a wall at the office or at home for a reminder of his time as an intern.
Graduation Blanket
A personalized graduation blanket also is an appropriate gift choice for an intern nearing the end of her studies. Personalize a woven cotton blanket with the student's graduation year, name and school. This gift can serve as a keepsake or can be a functional piece of home decor.
Pen and Pencil Set
A nice pen or a pen and pencil set is a nice way to say "thank you" to an intern who has stood out. You can find these sets at department or office supply stores. An intern preparing to enter the business world full time will likely appreciate a nice set of writing utensils to put on his desk. For a more personalized touch, have the intern's name or initials engraved on the implements.