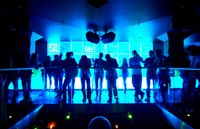 Swingers clubs in Dallas, Texas tend to be big and brassy, and they range from the simple to the high end. For those in the lifestyle, generally you have to go through some type of screening process before you will be able to enter the club, and some clubs will also allow non-swingers in as well.
Iniquity
This club requires people to be members before they will be allowed inside. The club features a DJ, a large bar and a dance floor. Intimate couches and seats are located in quiet corners around the dance floor, and many are separated from each other by white curtains. Iniquity attracts a higher-end clientele, and there is a screening process. Those who are dressed up and attractive will have a higher chance of getting past the bouncer. This club is open to non-swingers as well. Iniquity also features contests and theme nights, which generally occur on either Friday or Saturday night. A VIP room, which is known as the Den of Sin, is also available.
Iniquity 10821 Composite Drive, Suite 300 Dallas, Texas 75220 972-323-1100 iniquityclub.com
Velvet Curtain
This club is geared toward single women and swingers couples, and guests are invited to bring their own alcohol. Velvet Curtain, however, will provide some treats and drink setups. Other attractions include a stripper pole and private coaches, and sheets and towels are also available. The club features a techno DJ, a dance floor and some live music. Interested individuals must RSVP to events. Lone men will not be allowed in the club; a man must be accompanied by a woman. Individuals will have to go through a screening process before they will be admitted to the club. You must contact the club via the website and be invited to events before they will give the address of the club.
Velvet Curtain Dallas, TX velvetcurtain@earthlink.net velvetcurtain.net
Jet Set
This club is a total of 3,600 square feet, and it features a full bar, a dance floor, pool tables and small and large seating areas, and the featured music is a mix of classic and modern. The club also attracts non-swinging couples and singles, but only couples are allowed on Friday and Saturday nights. Single men are allowed on certain nights, but they must pay an additional fee. The club has specialty nights, live music and themed nights.
Jet Set 3136 Routh Street Dallas, TX 75201 214-720-4475 jetsetclub.com