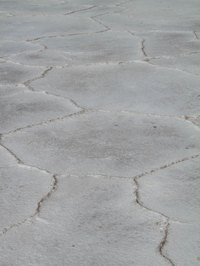 The three major deserts of Argentina in South America are the Salinas Grandes salt desert, the Monte Desert and the Patagonian Desert. The Monte and Patagonian are partially surrounded by the Andes Mountains and the Patagonian is home to some of the world's best-preserved petrified trees. The Monte biome is one of the largest dry forest biomes in Argentina. Tours of the Salinas Grandes are popular though the rise in elevation can cause elevation sickness.
Monte Desert
The Monte Desert in Argentina is located southeast of the Atacama Desert in Chile, north of the larger Patagonian Desert, and east of the Andes Mountains. This desert bleeds into the Patagonian and Atacama deserts and its geography is similar to the interior of the Patagonian. This includes large mountain blocks, volcanic sediments, thorn scrub and dry grasslands. Additional vegetation includes cactus scrub, xerophilous open woodland, rock associations, psammophilous associations, and halophilous associations. The area receives very little rain although several river systems run through this desert. This creates sparse gallery forests full of Mesquite trees. Wild irises, lilies and various grasses can bloom after periods of rain. Native bird species include the copetona and monterita canela. Other animal life includes lizards and the iguana colorada.
Patagonian Desert
The Patagonian Desert is the largest desert in the Americas and the fifth largest desert in the world by area covering 260,000 square miles of land. While its primary location is in southern Argentina parts of this desert extend to Chile. The desert is surrounded by the Andes Mountains (west) and the Atlantic Ocean (east). This cold winter desert rarely gets above 53 degrees F and averages at about 37 degrees F. The desert has about five months of winter and seven months of summer and while frost is commonplace the area rarely receives snow. This region was probably a rainforest area before the formation of the Andes Mountains. The desert today is mainly comprised on gravel plains and plateaus with sandstone canyons placed sporadically throughout the landscape that are continually sculpted by desert wind. Glacial, fluvial and volcanic deposits are also found throughout the landscape.
Salinas Grandes
The Salinas Grandes is a high altitude salt desert. It is the third largest salt desert in the world. It is found in the Cordoba and Santiago del Estero provinces of the Sierra de Cordoba in Argentina. The desert is 3,200 square miles with a large salt surface 30 cm thick and can be driven, walked or ridden on. A sunny, windy area this desert is also a sodium and potassium resource.