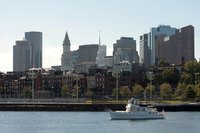 The city of Boston is famous worldwide for its rich and varied history, and there are countless fascinating and breathtaking sites for the curious tourist. It would be a mistake, however, to ignore the weirder side of Boston. The city's quirky culture has created some wonderfully odd experiences that are no less enjoyable for their eccentricity. A sprinkling of weirdness amongst more conventional activities can only add to an overall appreciation of Boston and its unique cultural heritage.
Boston Ghost and Gravestones
The Trolley of the Doomed awaits the unwary traveler at the Long Wharf Hotel, ready to embark on a terrifying tour of the Boston's ghoulish past. Your guide is a gravedigger from the 1600s, who will guide you through some of oldest graveyards in America and down the very same streets stalked by the Boston Strangler. This is easily the best ghost tour in Boston, and suitable for families with older children. Be warned, that hammy actors lurk in the gloom at every stop, ready to wail, moan and otherwise provide pricelessly cheesy entertainment. As of 2010, an hour and a half of entertainment is $38 per adult and $24 per child--a little expensive, but a small saving can be made by ordering online.
Boston Ghost Tours Corner of Atlantic Avenue and State Street Boston, MA 02110 617-269-3626 ghostsandgravestones.com
The Museum of Bad Art
Two galleries devoted to the exhibition of "art too bad to be ignored" are a must-see for anyone wishing to experience the weird side of Bostonian culture. Some truly shocking pieces adorn the basement walls of Dedham Community Theatre and Somerville Theatre. The backstory of each work is often extremely entertaining, and the paintings are truly terrible so no artistic sensibility is required to appreciate the ugliness. With no entrance fee it's worth purchasing one or two items from the range of M.O.B.A. memorabilia, if only to ensure these shrines to artistic inability remain a feature of the city.
Museum of Bad Art 580 High St. Dedham Square, MA 02026 781-444-6757 museumofbadart.org
Lizzie Borden Bed and Breakfast
For those of a macabre disposition the Lizzie Borden Bed and Breakfast/Museum is the perfect retreat. Though further afield in Fall River, Massachusetts, the house is the site of two of the most famous murders in American history, and it is possible to sleep in the very room where Abby Durfee Gray was hacked to death. The rooms, as of 2010, are pricey for a B&B at around $200 to $400 a night, depending on the room and time of year. Also, obtaining a room on the anniversary of the murders, or some other significant date, is impossible without booking years in advance. However, it is not necessary to stay at the bed and breakfast; a tour as of 2010 is only $12.50, and the highly informed and enthusiastic owners and staff will ensure a fascinating experience.
Lizzie Borden Bed and Breakfast and Museum 92 Second St. Fall River, MA 02720 508-675-7333 lizzie-borden.com
Boston Duck Tours
Ever wanted to tour Boston in an amphibious landing vehicle? Well, as of 2010, for $31 per person Boston Duck Tours provides that very opportunity. The informative guides will explain the multitude of significant sights, from the historical landmarks such as the Massachusetts State House and Bunker Hill to the trendy hot-spots of the modern age. The tour ends in the Charles River, affording incredible views across the city complemented by the novelty of being in a truly bizarre vehicle.
Boston Duck Tours 4 Copley Place, Ste. 4155 Boston, MA 02116 617-267-DUCK (3825) bostonducktours.com