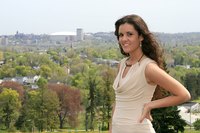 America's longest highway, Interstate 90, extends across the northern United States, connecting major cities like Seattle, Chicago and Syracuse. Travelers near central New York's metropolis city can ditch the thruway for restaurants in the city's nearby downtown area. Diverse and elegant fare awaits those who dine in Syracuse's trendy downtown restaurant district.
Mission Restaurant
Mission Restaurant offers pan-American cuisine. Housed in an old Methodist church, the Mission is a former stop on the Underground Railroad. Today, you can enjoy Mission's Mexican and South American interpretations of appetizers like ceviche, empanadas and quesadillas. The dinner menu's entrée selections include pan-seared salmon filet and carne asada, as well as an assortment of burritos, tacos and enchiladas. Yuca fries, guacamole and refried beans are just a few of the sides you can order with dinner. Lunch and children's menus are also available, in addition to wine and beer choices.
Mission Restaurant 304 East Onondaga St. Syracuse, NY 13202 315-475-7344 themissionrestaurant.com
Pastabilities
Since 1982, Pastabilities has served contemporary Italian cuisine in Syracuse's trendy downtown district. You can begin dinner by choosing an appetizer like fried calamari, Thai chicken wings and warm goat cheese bruschetta. Soup or a salad of the month can also serve as a prelude to Pastabilities' pizza, burger and pasta entrées. Baked spinach and feta manicotti, Southwestern chicken lasagna and homemade artichoke ravioli are only a few of the seasonal pasta entrées the Italian eatery has featured. Pastabilities additionally offers lunchtime menu items and an expansive wine list.
Pastabilities 311 South Franklin St. Syracuse, NY 13202 315-474-1153 pastabilities.com
Strong Hearts Café
Strong Hearts Café serves vegan cuisine prepared with locally grown, organic ingredients. Founded by animal rights advocates, the Syracuse café makes environmental sustainability a priority by composting all food waste and using biodegradable food packaging. At Strong Hearts, you can enjoy a vegan interpretation of the classic Reuben sandwich in addition to Tofurkey, seitan and grilled "cheese" sandwiches. Salads run the gamut from coleslaw and potato salads to spinach and soba noodle salads. Cupcakes, "cheese"cakes and brownies are some of Strong Hearts' desserts, in addition to an assortment of dairy-free milkshakes. Additionally, the café offers a breakfast menu daily and specialty vegan pizzas on Friday evenings.
Strong Hearts Café 719 East Genesee St. Syracuse, NY 13210 315-478-0000 strongheartscafe.com