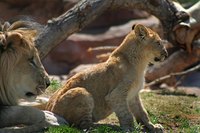 Savannas are found in a band on either side of the equator. They are made up of grassland, with a few trees and shrubs. They are warm all year, but too dry to support many trees. Because there are few trees, grasses flourish, along with herbivores who eat the grasses, and large predators, like lions, who prey on the herbivores. In the savanna, lions have a wide choice of food but can be surprisingly picky eaters.
Herbivores
The savanna lions' main prey are herbivores. Animals such as buffalo, zebra, wildebeest, gemsbok, hartebeest and impala are plentiful in the savanna. These animals live in large groups and female lions hunt them in packs, often picking out the weakest animals to attack. Lions are strong, but lack stamina and can't chase for long distances. Because herbivores can often run fast, the lions stalk these prey--getting close to them before pouncing. The tall grasses and shrubs of the savanna provide good cover for the lions.
Medium-Sized Prey
Scientific studies have shown that lions prefer prey weighing 700 to 800 pounds. This includes gemsbok, buffalo, wildebeest and zebra. Lions will usually avoid animals that weigh less than 400 pounds and more than 1,000 pounds. Savanna lions avoid some animals in their preferred weight range because they are not common--such as eland and sable--or they are tougher to catch. For example, the eland lives in very large herds and is very good at spotting the lions. Lions do hunt warthogs, which are lighter than 400 pounds, but this may be because warthogs move slowly and are widely available.
Smaller Prey
Lions will eat just about any animal that they can. Female lions needs around 11 pounds of meat each day and adult males need more than 15 pounds of meat a day. Because it takes a lot of energy to catch small prey, it is usually only eaten if other food is scarce or if the lion chances across it. Lions will also steal the kills of other animals, such as cheetahs and hyenas, and will scavenge for carrion if no other food is available.
Humans
Lions do not generally attack humans. However, when food is scarce, or where lions come into regular contact with humans, attacks become more common. For example, the lions of Tsavo in Kenya live in areas abutting ranch land and often attack humans in the area. In the 1880s, two Tsavo lions were said to have eaten more than 130 people, and researchers theorize that the lions may have gotten used human flesh by eating the dead bodies that would wash up at river crossings.