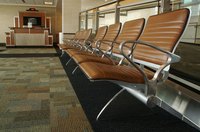 Walking into a medical office illuminated by natural sunlight with flowering peace lilies minimizes the sterile feel of a health care facility. Dr. Loretta Lanphier, Vice President of Global Healing Center, Inc., believes the reception area of a medical office should welcome and soothe both staff and patients. Appealing to the senses eases tension and creates successful office decor, says Lanphier.
Lighting
Front reception areas located near windows or skylights reduce stress and fatigue while increasing productivity of the reception staff. If the building doesn't have natural light sources near the front receptionist, replace all overhead lighting and lamp bulbs with full-spectrum lighting. The change in lighting minimizes eye strain, gives everything a true vibrant appearance--unlike the yellow-green glow of fluorescent lighting--and reduces production of the stress hormone cortisol, according to the Global Healing Center.
Furniture
Strive for efficiency when designing the front reception area at a medical office, according to the Physician's News Digest. Keeping the patient sitting area close to the office entrance closely followed by the receptionist counter and the patient treatment areas. Choose ergonomically correct furniture for the patient waiting area and receptionists for all-day comfort. To keep the area organized and presentable, use vertical magazine racks, wall-mounted coat hanging pegs and assemble a designated children's area with a box of toys and small play table.
Accessories
Artwork, plants and other soothing accessories make the front receptionist area of a hospital an area that stimulates social engagement, according to Whidden Hospital administrator Deborah Murphy. After hanging 19 pieces of original artwork, a pleasurable and friendly atmosphere dominated the hospital. Murphy noted on The Art Connection website, "The artwork has completely changed the atmosphere of the hospital. When you walk into the hospital, it now feels inviting."
Green plants, such a peace lilies and ivy, add beauty and color and remove pollutants from the air in the front reception area of a medical office. The Global Healing Center also recommends dracaena, philodendron and parlour palms to clean the air.
Scents
The smell of disinfectants does not have to linger in medical offices. When patients enter the building, aromatherapy diffusers create a welcoming atmosphere. The odor of plant and essential oils can trigger emotional reactions, reduce stress and keep medical personnel productive according to Lanphier. Choose lavender, lemon, grapefruit, orange, ylang ylang, rose or bergamot scents to create a relaxing atmosphere.