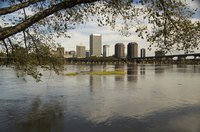 Richmond, Virginia is a couple of hours inland from the Atlantic coast. It's easy to take an afternoon or day trip to the shore if you know where to go. In fact, if you don't need sea breezes to complete your beach experience, you might not need to leave the city limits.
The James River
Richmond sits on the banks of the James River, and much of the area along the river's banks has been turned into parkland. The James River Park System hosts over a million visitors every year. Enter via Texas Avenue and follow the long trail to a small, isolated beach or use the Landria Avenue entrance to the Wetlands area and its adjacent beach. Swimming, fishing, bird-watching, rock climbing and paddleboarding are all permitted at the beach.
Jamestown Beach Park
Williamsburg is about 50 miles east of Richmond. Adjacent to Williamsburg lies Jamestown Beach Park, a sprawling family-friendly area with a sandy beach. The water here is calm and warm enough to swim in, and the nearby trees provide plenty of shade when you're done playing in the sun. Work on your tan while lying on the sand, rent a paddleboard or try out a Jet Ski. The beach is dog-friendly as well. Nearby is Colonial Williamsburg, a historical reenactment site and "living museum."
Buckroe Beach
Buckroe Beach, near the city of Hampton, is about 75 miles from Richmond at the southern tip of the Virginia peninsula on the Chesapeake Bay. The beach is monitored by lifeguards during the summer months; the park itself is open year-round. The park also features a playground as well as kayaks and paddleboats.
Colonial Beach
The town of Colonial Beach is about 70 miles from the city of Richmond. It features the second longest public beach in the state of Virginia. The town itself is full of historical interest; George Washington and James Monroe were both born here, and Alexander Graham Bell's family owned a summer home in town. You can rent a cottage here or just spend the day on the beach and boardwalk along the Potomac River. Fish off the pier for perch and rockfish, bird-watch for herons, cormorants, osprey and other shorebirds, take a swim in the temperate waters or rent a canoe for the day.