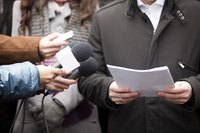 The New York Police Department grants press credentials through the office of the deputy commissioner for public information. Applicants seeking press credentials must be able to prove that they are legitimate members of the media. You must submit several documents and meet certain eligibility requirements to receive press credentials.
Professional Eligibility
To obtain a New York City press pass, you must be a member of the press who regularly covers news and events that involve restrictions of the public by fire or police personnel. Journalists are also eligible if they cover city-sponsored events that admit journalists.
Work Samples
Journalists must provide the NYPD with at least one published article, editorial or book published in the two years prior to the application. Applicants who work in other media must present at least one film, photograph, video or audio broadcast published in the two years prior to the application.
Six Events
A journalist must provide a list of six news or city events that he covered within the two years prior to the application. The journalist must have covered the event in person and each event must have occurred on a different day.
Documents
All journalists must present a government-issued photo ID, a completed application and the sample work to the deputy commissioner of public information. Applications must be delivered in person and applicants must call the deputy commissioner's office at 646-610-8802 or 8803 to make an appointment. The deputy commissioner's office is located at 1 Police Plaza, Room 1320, in New York City.