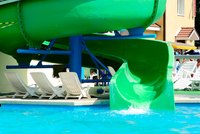 While the coastal resort city of Myrtle Beach presents visitors with 60 miles of sandy beaches along the Atlantic Ocean, there are several resorts that provide their own water fun activities. Along the oceanfront, there are a few resorts that offer more than ocean access and traditional pools to their guests. Private resort water parks provide guests with a variety of interactive water activities including water slides, children's splash zones, multiple pools and relaxing lazy rivers. If you are seeking a resort that offers more than the typical amenities, a water park resort will provide additional activities that are sure to entertain every member of your family.
Coral Beach Resort and Suites
While vacationing at the Coral Beach Resort and Suites, guests are able to relax on the beachfront or at one of the many water attractions inside of the resort. The outdoor water park provides children with an activity-filled water playground where they can climb and splash in submarine and shipwreck play zones, run through a rainbow of spray jets or swim in the two outdoor kiddie pools. Indoor and outdoor pools, a lazy river and three Jacuzzis are also available for guests. There are several types of accommodations available including traditional rooms, suites and condos, which all feature oceanfront views and a private balcony. The Coral Beach Resort and Suites offers additional amenities such as a children's activity center, an eight-lane bowling alley, game room, fitness center and dining options.
Coral Beach Resort and Suites 1105 South Ocean Blvd. Myrtle Beach, SC 29577 800-556-1754 coralbeachmyrtlebeachresort.com
Dunes Village Resort
Located on the oceanfront, the Dunes Village Resort boasts Myrtle Beach's only indoor water park. The family-friendly resort features two 15,000-square-foot indoor water parks, condo-style guest rooms, a poolside bar, an on-site restaurant, a spa and much more. The indoor water parks feature a 250-foot lazy river, adult-size water slides, kiddie play areas, a lap pool, five spa tubs as well as other water activities including water volleyball and basketball. Guests will also enjoy an outdoor pool complete with its own lazy river and spa tub. Other amenities available at the Dunes Village Resort include an arcade and game room, children's activities, a picnic area and fitness facilities.
Dunes Village Resort 5200 North Ocean Blvd. Myrtle Beach, SC 29577 877-828-2237 dunesvillage.com
Kingston Plantation Resort
The Kingston Plantation Resort is a 145-acre complex that offers extensive accommodations, which includes the Embassy Suites Myrtle Beach Hotel, the Hilton Myrtle Beach Resort as well as a wide variety of condos, villas and townhouses. In 2010, the resort opened Splash! Water Park at the Embassy Suites Hotel. The exclusive water park is only open to guests of the Hilton-owned properties. The 50,000-square-foot outdoor water park is a Caribbean-themed water playground that features water slides, water spouts and jet sprays along with a giant bucket that dumps hundreds of gallons of water on the guests below. In addition to the play area, there is a lazy river, two kiddie pools, two large swimming pools and three Jacuzzis. The Splash! Water Park is open during the summer season, Memorial Day through Labor Day.
Kingston Plantation Resort 9800 Queensway Blvd. Myrtle Beach, SC 29572 800-876-0010 kingstonplantation.com
Landmark Resort
Wading pools with waterfalls, raintree umbrellas and barrel bucket dumps are just some of the fun features you will find at the Landmark Resort outdoor water park. The resort also offers indoor and outdoor pools, an oceanfront whirlpool, a 300-foot outdoor lazy river as well as a kiddie lazy river and fun pool. Guest accommodations include oceanfront and ocean-view rooms along with executive and penthouse suites. The Landmark Resort provides guests with on-site dining options, a convenience mart, video-game arcade, fitness center and a nine-hole putt putt golf course.
Landmark Resort 1501 S. Ocean Blvd. Myrtle Beach, SC 29577 800-845-0658 landmarkresort.com
Sea Crest Oceanfront Resort on the South Beach
In 2008, the Sea Crest Oceanfront Resort introduced an outdoor water park that was specially designed for children. At the water park, children are able to plunge down a kid-friendly bumpy slide, splash under the rain makers or play in the submarine and shipwreck water zones. The resort also provides guests with indoor and outdoor pools and lazy rivers as well as two indoor Jacuzzis. Room accommodations for guests include oceanfront rooms with private balconies and various styles of suites. The Sea Crest Oceanfront Resort also provides live entertainment, a fitness center and direct access to the beach.
Sea Crest Oceanfront Resort on the South Beach 803 South Ocean Blvd. Myrtle Beach, SC 29577 888-889-8113 myrtlebeach-resorts.com
Sea Mist Oceanfront Resort
The Sea Mist Oceanfront Resort offers guests the opportunity to splash and relax in Myrtle Beach's largest outdoor resort water park. Guests of the resort have unlimited access to the oceanfront water park, which features a three-story-high tubular speed slide, mini-water slides, a 670-foot-long lazy river, children's activity area and a wading pool. There are also four Jacuzzis and 10 pools located throughout the resort including two indoor heated pools. The entire resort is situated on 15 acres of property and provides guests with a wide variety of accommodation options including traditional hotel rooms, suites, condos, cottages, beach bungalows and rental houses. Aside from the water park, there are many additional family amenities such as a large arcade, a miniature golf course and a state-of-the-art multilevel play area. When booking your stay, the addition of the Family Value Package will provide you and your guests with daily admission to the Family Kingdom Oceanfront Water Park, which is located just six blocks north of the resort.
Sea Mist Oceanfront Resort 1200 South Ocean Blvd. Myrtle Beach, SC 29577 800-793-6507 myrtlebeachseamist.com