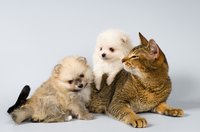 Oklahoma is located in the south-central area of the United States; the majority of the state lies in the Great Plains region, and is made up of forests, prairies and small mountain ranges. More Native American languages are spoken in Oklahoma than any other state and it is home to many Native American reservations and casinos. Visitors to the state can choose from a wide variety of lodging accommodations, including many cabin rentals that are pet-friendly.
Lazy M Cabins
The Lazy M Cabins are located in Sulphur, Oklahoma, and feature several rustic, cozy units just one mile from Lake of the Arbuckles and the Guy Sandy Boat Ramp and covered fishing dock. Guests can choose from one- to three-bedroom units with amenities such as fully equipped kitchens, barbecue grills, private hot tubs, fire pits, televisions, stereos and private porches. Pets are allowed as long as the guest gives prior notice; there is a $5 per night charge per pet. No aggressive animals are allowed and dogs must be kept on a leash at all times. All pets must be crated while inside the cabins and there is a $50 cleaning fee if guests fail to clean up after their animals.
Lazy M Cabins Sulphur, OK 73086 580-622-2620 lazymcabins.com
Last Resort Cabins
Last Resort Cabins are located in the town of Broken Bow, near Beavers Bend Park in the Kiamichi Mountains. Guests can choose from eight cabins that are all pet friendly and offer amenities such as jacuzzi tubs, gas-log fireplaces, outdoor hot tubs, high-speed Internet access, private porches and decks, and fully equipped kitchens. Nearby attractions include the Forest Heritage Center and Museum, the Beavers Bend Nature Center and a variety of hiking and biking trails.
Last Resort Cabins HC 75 Box 40-1 Broken Bow, OK 74728 888-494-6639 borkenbowlastresort.com
Oklahoma City East KOA
The Oklahoma City East KOA offers guests their choice of one-room camping cabins, large camping lodges and a variety of RV and tent sites. Some cabin rentals feature just basic necessities such as bunks and electricity, while others offer private porches, fully equipped kitchens and private bathrooms. Pets are welcome as long as requests are made in advance in case of limited pet units. Certain breeds of dogs may be prohibited, and dogs of all kinds must be kept on a leash. A Kamp K9 Doggie Playground is also available for pet owners. Other amenities at the campground include a seasonal swimming pool, a playground, bicycle rentals and planned activities such as horseshoes, volleyball, hayrides and badminton.
Oklahoma City East KOA 6200 South Choctaw Rd. Choctaw, OK 73020 405-391-5000