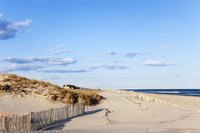 Although most offer lackluster comforts and dining, the private beach clubs scattered around the Hamptons represent the apogee of social achievement for many. Just 120 miles from New York City on the tip of Long Island, unassuming, shingle-roof houses among the dunes manage to remain a world away from the city.
Maidstone Club
The club that turned down local resident George Plimpton as a member, as well as Diana Ross, overlooks a quiet patch of smart lawns and dunes at East Hampton. Founded in 1891, the Maidstone takes its name from a town in Kent, England, and many members trace their ancestries back to 17th-century English settlers. The most public side of this very private club is the 18-hole golf course, one of the nation's best according to Hamptons magazine. A venue for both championship and charity matches, the course made Golf Magazine's 2013 top courses in the U.S. list.
Beach Club
Arguably the most exclusive beach club in the Hamptons is the Southampton Bathing Corp., locally nicknamed the "Beach Club," on Gin Lane. Conservative in its membership policy and shy of publicity, the club is described by "The New York Post" as the hardest in all the Hamptons to get into, with membership traditionally only extended to spouses and children of existing members, and subject to a five-figure initiation fee and annual membership fee -- despite the absence of air conditioning. The club was founded in 1923 and predominantly caters to entrants in the exclusive Hampton's "Blue Book" registry of local residents. The club provided a memorable setting in Tom Wolfe's "The Bonfire of the Vanities."
Tiana Shores
Not all Hamptons beach clubs are centuries old. The Tiana Shores Club in Hampton Bays opened in 1971 and offers membership almost exclusively to homeowners and long-term renters in Tiana Shores. However, residents from around the Hamptons may enjoy guest memberships. As well as its prime location on Tiana Bay, the club has a pool, tennis court and ballroom. The club is run as a not-for-profit organization.
Private Retreats
According to Next Stop magazine, Westhampton is supposed to be a more laid-back and family friendly counterpart to the South Fork villages, but the nuances might be too finely pronounced for most visitors to notice any difference. The local Swordfish Club, for example, is so private that even access to its website is for members only, while many beaches in the area require either a permit or payment of a fee to enter. Well-connected tennis fans might enjoy the Meadow Club in Southampton, which dates back to 1887 and hosts celebrated matches on its court.