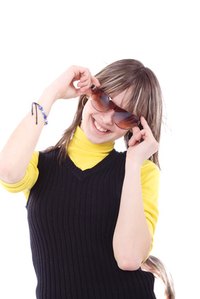 With all of the hormones coursing through teenagers, it is no surprise that the beauty tips that work one week may not work the next due to constant hormonal changes. Hormones can cause your skin to become oily or dry, cause your hair to darken, or cause curves to show up in places you may not want them. There are a few beauty tips to use at age 15--or throughout your teenage years--that will work consistently through all of the maddening changes.
Highlight Your Natural Hair
Keeping your natural hair color and simply highlighting it will be most complimentary to your complexion. If you lighten or darken your hair dramatically it can look unnatural, and your roots will give you away after the first week or so. Upkeep is much easier, and the appearance more natural, if you highlight your hair. That way, it just looks as if you have spent a few days at the beach.
Balance Your Skin Tone
Even-toned skin can be achieved without layering on foundation. Shop for a toner that is natural and therefore less likely to change the pH of your skin too much. Toners help clean pores, re-balance skin pH after washing, reduce wrinkles and tighten pores which leaves your skin looking fresh and supple.
Skip the Tanning Bed
Tanning beds expose your skin to harmful UV rays which cause premature aging, blemishes and dry skin. To avoid looking like a leather handbag by age 30, use self-tanning sprays or lotions instead of spending your summer in a tanning bed. Self-tanners allow you to build a tan gradually so that you can choose just how dark you want to go. They also often contain moisturizers that are good for your skin.
Eat a Balanced Diet
Nutrients are extremely important to growth, development and maintaining your health, especially during the teen years when bodies are growing and changing constantly. One of the most important recommendations for eating a healthy diet is to consume five or more servings of fruits and vegetables per day. Five servings may seem like a lot, but it is very simple to obtain. Eat fruit with your cereal or oatmeal at breakfast, vegetables with a dipping sauce such as ranch for a mid-morning snack, a side salad with lunch, and a side of steamed vegetables with dinner to obtain several servings of fruits and vegetables each day.
Hydrate
Hydration is very important for your health. You lose water through sweating, breathing and other bodily processes. Maintaining proper hydration enables your body to transfer needed nutrients through the vascular system and maintain normal bodily processes. As a teenager and adult it is recommended that you drink at least eight 8-ounce glasses of water daily. Avoid beverages high in caffeine as they can cause dehydration.