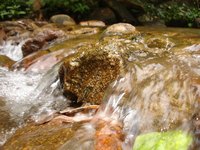 Texas Hill Country is fast becoming a popular playground for tourists visiting south central Texas. The area is situated north of San Antonio and mostly west of the city of Austin. Visitors to the area can kayak, fish, canoe, tube, raft or swim on its many lakes, streams and rivers. The many accommodations in Hill Country include cabins, RV parks, motels, hotels, spas, resorts, cabins, ranches, apartment rentals and cottages. For those interested in activities on one of the area rivers, several riverside cabins are available for rent to traveling tourists.
Roddy Tree Ranch
The Roddy Tree Ranch in Hunt, Texas, is located along the Guadalupe River in Texas Hill Country. The ranch features 800 feet of river access, two swimming pools, a catch-and-release fishing pond, a petting zoo, playground and several different outdoor leisure activities including horseshoes and badminton. The cottages at Roddy Tree can accommodate two to 10 guests; all include antique furnishings, full kitchens, TVs, DVD players, barbecue grills, picnic tables and bathrooms. Deluxe accommodations may include fireplaces, porches, decks and private laundry facilities. Cottages are available for rent year-round; rates vary according to amenities offered.
Roddy Tree Ranch P.O. Box 820 Hunt, TX 78024 830-367-2871 roddytree.com
Foxfire Log Cabins
Foxfire Log Cabins, located in Texas Hill Country on the Sabinal River, features seven fully furnished log cabins that vary in size for large families, small groups or couples. According to its website, Foxfire has been recommended for travelers by several publications including the "New York Times," "Dallas Morning News" and the "Houston Chronicle." Each cabin contains a bathroom, a wood-burning fireplace, an outdoor fire ring, a fully furnished kitchen, open beam ceilings, wood floors and a living area. Some cabins also feature decks or porches. A center pavilion in the complex provides a common gathering spot for families and guests, a natural swimming hole is popular with kids and adults, a playground, basketball goal and volleyball net provide other outdoor recreation activities, and bird feeders throughout the grounds provide wildlife viewing opportunities. Foxfire Cabins is open year-round; rates vary by size of cabin and season.
Foxfire Log Cabins 117 Olsen Ranch Rd. Vanderpool, TX 78885 830-966-2200 foxfirecabins.com
All Wimberley Lodging
All Wimberley Lodging offers a variety of vacation homes, cottages and log cabins in the city of Wimberley in Texas Hill Country. The company offers dozens of cabins and cottages located on the Blanco River. Cabins are all fully furnished and feature kitchens and bathrooms. All homes feature different amenities that may include multiple bedrooms or bathrooms, jetted bath tubs, garages or carports, porches or decks, fireplaces, patios, swimming pools or hot tubs. Rates vary by date, location and amenities.
All Wimberley Lodging 13820 Ranch Road 12 Wimberley, TX 78676 512-847-3909 texashillcountryreservations.com
Frio River Cabins
Frio River Cabins, located in Texas Hill Country in Leakey, offers cabin rentals year-round. Six cabins are available; all include air conditioning and heating, two bedrooms, two bathrooms and fully equipped kitchens. A few cabins also feature fireplaces. The location rents tubes and kayaks with shuttle service; many guests choose to fish and snorkel in the clear, spring-fed river. Nearby ranches offer horseback riding and volleyball, and horseshoe pits are available to guests on-site. Rates vary by season.
Frio River Cabins P.O. Box 1048 Leakey, Texas 78873 830-232-5996 friorivercabins.com