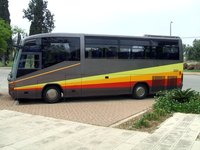 The main bus company that travels from Canada to the United States is the Greyhound bus line, which has buses departing every day of the week at various times from Ottawa to New York City. Another company, Comfort Travel Inc., offers tour-led guides of New York City in addition to transportation, making it a more expensive option. Sandy's Bus Tours offers a similar tour as well as buses for rent.
Greyhound
The Greyhound bus company offers bus trips from Ottawa to New York City at a cost of $95 per ticket for a one-way trip. Buses depart from early in the morning (2:30 a.m.) to late in the evening (8 p.m.). The trips last 12 hours and 45 minutes at most and 11 hours and 15 minutes at least. Located at 265 Catherine St., the bus station in Ottawa remains open seven days a week, even on holidays, from 5:30 a.m. until 11:59 p.m.
Greyhound lines 265 Catherine St. Ottawa, Ontario, Canada K1R7S5 613-238-5900 greyhound.ca/home/
Comfort Travel Inc.
Comfort Travel Inc. offers bus tours to New York, but no buses depart from Ottawa. The closest departures are from Toronto, meaning that travelers would need to take a Greyhound bus from Ottawa to Toronto. Greyhound buses from Ottawa to Toronto depart from 12:30 a.m. to 7 p.m. on weekdays and last at most six hours and at least four hours and 55 minutes. The tour to New York City lasts four days and three nights and includes hotel accommodation, a shopping tour of Macy's and Waterloo Premium Outlets, and a visit of key areas of New York City such as NBC studios, the Guggenheim Museum, Radio City Music Hall and the Museum of Modern Art.
Comfort Travel Inc. 2586A Yonge St., Second Floor Toronto, Ontario, Canada M4P 2J3
416-642-0372 comforttravel.ca/
Sandy's Bus Tours
Another agency that offers bus tours and departs from Toronto is Sandy's Bus Tours. Travelers should reserve a seat on an Ottawa to Toronto Greyhound bus as all buses from this agency depart and return to Toronto. The New York City tour includes shopping and sightseeing departures on weekdays and a red-eye departure every weekend.
Sandy's Bus Tours Centennial Pkwy., Toronto, Ontario 416-536-1082 sandysbustours.ca/index.php