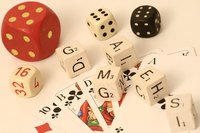 Playing games to pass time during travel is not a new idea, but it does present challenges. Traveling on planes means that game players are confined in a limited space for a substantial period of time. With this in mind, games should be portable, have few or no physical pieces and be simple enough for all players, yet entertaining enough to keep the attention of players of all ages. There are several styles of games that are well suited to air travel.
Games Requiring Nothing
Games that require nothing are ideal. They don't use space in carry-on bags, they don't require setup, and there are no pieces to lose. Disney FamilyFun lists many parts-free games. In the Name Game, a famous person is named by the first player and the second player continues by naming another famous person whose first name starts with the first letter of the last name of the first celebrity mentioned. In Eating the Alphabet the first person says, "I'm so hungry I could eat an apple," or something else beginning with the letter A, and the second goes on to name a B food. In thumb wrestling players wrestle with their thumbs. Players should play verbal games quietly enough to not disturb other passengers.

Print and Play Games
Printable crossword puzzles, word searches, quizzes, number puzzles and logic puzzles are a good choice for airplanes, as they require only printed materials and pencil or pen. Many websites, such as Puzzle Choice, offer a wide variety of free puzzles and quizzes that are geared toward different ages and skill levels. Disney FamilyFun also offers some free printable games, such as activity sheets and memory-based games.

Card Games
Card games are also a good portable alternative, although losing cards might be a problem. Most people of all ages are familiar with card games and can choose which to play according to age and skill level.

Travel-sized Board Games
Board Game Central lists many classic board games that are available in miniaturized travel form. Features include compact casing for easy storage and carrying, or magnetic pieces and boards to minimize losing game pieces. Examples include Backgammon, Checkers, Chess, Mastermind, Yahtzee, and Trivial Pursuit.
Electronic Hand-held Games
Many of these travel-sized games are also available in electronic hand-held format, but may not be usable at all times on an airplane. The same is true for games that can be played over mobile phones.