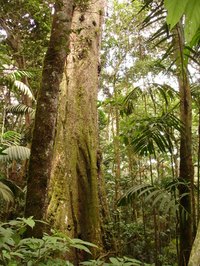 The temperate rainforest is home to a variety of plants and animals, including giant trees, flowers, slugs, birds, deer, black bears, rodents and nocturnal animals such as raccoons and bats. The temperate rainforest is on the northwest shoreline of North America, and stretches from northern California to south Alaska. Small areas are also found in Australia, Chile, New Zealand and other locations.
Trees
The temperate rainforest's moderate climate and plentiful rainfall help trees thrive, and the area is home to the coastal redwood, the world's tallest tree. Other trees grow to enormous heights as well, such as Douglas firs, giant hemlock and eucalyptus. Other species in the temperate rainforest include black cherry, dogwood, sitka spruce, oak and maple.
Plants
The first flowers to bloom in spring, called ephemerals, thrive before larger plants get their leaves and bring shade to the temperate rainforest. These include skunk cabbage and snowdrop flowers. According to Oracle ThinkQuest, "From mid-March to mid-May, different types of flowers, all only blooming for a few weeks at a time, take turns living on the forest floor."
Birds
The rainforest is home to a variety of birds, from songbirds to woodpeckers. Some species include Clark's nutcracker, the blue grouse, raven and varied thrush. You can hear the songbirds' mating calls in the spring, along with a chorus of frogs and other animals.
Nocturnal Animals
The forest is alive at night, and species such as bats, flying squirrels, opossums and raccoons come out of the trees where they sleep during the day. They forage or hunt for food at night, when the air is cooler. Some animals hibernate in underground burrows during the winter.
Other Mammals
Even diurnal mammals, such as deer and black bears, wake later in the summer to take advantage of the cooler nights. Other species include marmots, ground squirrels, beavers and groundhogs. Some stockpile food in their burrows for the winter; some, such as the black bear, hibernate; and others, such as the deer, dig for green shoots under the snow.