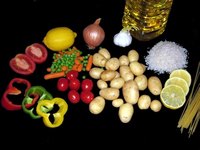 Fatigue is caused in part by poor eating habits. Not eating for long stretches of time, eating fast food or small amounts of foods high in sugar will lower energy and weaken your immune system. To increase energy you need a diet that combines complex and simple carbohydrates. Complex carbs burn slowly, giving a steady stream of energy. Simple carbs burn fast, giving immediate energy. A diet of both along with vitamins and minerals will help maintain energy levels.
Fruits and Vegetables
Fruits and vegetables contain simple carbohydrates. Bananas, blueberries, oranges, spinach, cantaloupe, olives, and kiwi fruit are rich in vitamins B and C, and minerals like potassium, zinc and manganese.
Carrots, sweet potatoes and apricots are sources of vitamin A which helps make white blood cells that fight off infection. If your immune system is weak due to fatigue, your body increases its demand for vitamin A.

Cereals and Grains
Fiber provides a steady flow of energy and can be found in oats, which also contain B vitamins that help turn carbohydrates into energy. Oatmeal provides calories, carbohydrates, protein and fat, all needed to maintain energy levels. Brown rice, whole grain bread and fortified cereals that contain bran are also recommended for boosting energy.

Lentils
Including lentils in your diet improves energy levels by providing several of the daily vitamins and minerals your body needs. Lentils like navy beans, chickpeas and kidney beans are a source of carbohydrates, protein, calcium, iron, B vitamins, zinc, magnesium, potassium and copper.

Dairy
Magnesium releases enzymes in the body that break down protein and carbohydrates, and is essential to improving energy. Low-fat yogurt, cheese and skimmed milk are rich in magnesium.

Fat
Too much bad fat--saturated fat found in butter and cream and trans fat found in baked goods, and fried food--can lead to fatigue. But good fat--unsaturated and polyunsaturated--is a concentrated source of energy. Replace saturated and trans fat with foods containing unsaturated fat, like olive oil, avocados, nuts and canola oil. Vegetable oil and seafood are also sources of good fat.

Protein
Motley Health recommends protein as an important part of a healthy diet because when the body isn't getting enough fuel from carbohydrates and fat, it uses protein to provide energy. Meat, poultry, fish, eggs, beans, nuts and dairy products contain protein and require our body to break down that protein into amino acids. Our body needs to get certain amino acids from our diet; others our body can make on its own. Protein from animal foods contains all of the essential amino acids our body needs.

Water
Dehydration is one of the main causes of fatigue. If your body isn't hydrated, it puts its resources into keeping your water balance rather than giving you energy. Water is an essential ingredient in the production of energy molecules. Active's website recommends drinking as much water as your body requires. The recommended daily intake is about eight glasses, but if you're active or sweating a lot, you may have to increase how much water you drink to account for the loss.