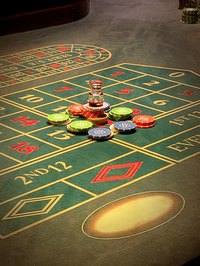 Verona is a small town in Central New York, nestled in the countryside along the New York State Thruway. The region is best known for its large casino, but there are other recreational opportunities in the area for non-gamblers as well. Just a short drive away, visitors can enjoy nature's splendor.
Turning Stone Resort and Casino
Owned and operated by the Oneida Indian Nation, Turning Stone Resort and Casino is a world-class venue for golfing, dining, gambling and relaxing. Turning Stone's three championship golf courses include Atunyote Golf Club, Kaluhyat Golf Club and Shenendoah Golf Club. Pleasant Knolls is a recreational golf course, and Sandstone Hollow is a 9-hole par 3 course. Turning Stone features a complete range of gambling choices, including slot machines, table games, bingo and poker. There are ten dining options, ranging from muffins and pastries to upscale dining. Guests can choose from five types of lodging. The Lodge is the most luxurious option with elegant suites and private balconies. The Tower, the tallest building between Albany and Syracuse, offers spectacular views of the countryside. The Hotel and The Inn offer classic and modest comfort, while The Villages RV Park provides recreational family fun. The resort also features two spas, offering a complete range of services.
Turning Stone Resort and Casino 5218 Patrick Road Verona, NY 13478 800-771-7711 turningstone.com
Vernon Downs Casino and Hotel
Less than five miles from Verona, Vernon Downs Casino and Hotel features a 750-game casino with live entertainment and a variety of dining options. Restaurants include Gold Cup Buffet, Champions Buffet, Triple 7 Cafe, Lucky's Bar & Grill and Ring Eyed Pete's Sports Bar. The racetrack features live horseracing Fridays, Saturdays and select Thursdays from April through November. Families will appreciate Kid Zone near the race track, which features bounce houses and plenty of activities for the kids.
Vernon Downs Casino and Hotel 4229 Stuhlman Road Vernon, NY 13476 877-888-3766 vernondowns.com
Verona Beach State Park
Eleven miles from Verona is Verona Beach State Park, located on the eastern shore of Oneida Lake. The park's facilities include campsites, picnic areas, nature trails and a beach for swimming. During the winter months outdoor enthusiasts can go snowmobiling, cross country skiing and ice fishing. In season, part of the park is open for waterfowl, small game and deer hunting. Verona Beach State Park has one of the most diverse aquatic habitats in Central New York, including Oneida Lake, Black Creek, swamps and marshes.
Verona Beach State Park PO Box 245 Verona Beach NY 13162 315-762-4463 nysparks.state.ny.us
Verona Beach Lighthouse
Located on the shores of Oneida Lake, the Verona Beach Lighthouse was built in 1916 and is 84.5 feet tall. Large ships navigating the Barge Canal after its completion in 1903 created a need for lighthouse construction. Several lighthouses were built on Onondaga Lake and Oneida Lake between 1915 and 1918. The Verona Beach Lighthouse Association is working to restore the historic lighthouse for the public. There is no admission charge to visit the lighthouse, which boasts views of spectacular sunsets over the lake.
Verona Beach Lighthouse PO Box 202 South Shore of Verona Beach Verona Beach, NY 13162 No phone number available veronabeachlighthouse.com