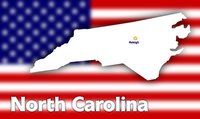 North Carolina boarders the Atlantic Ocean and with beaches, coastal plains and mountains there are many attractions to draw visitors. Most resorts in North Carolina are not all-inclusive but a few offer packages that will suit your individual needs. Golfing, spas, swimming, tennis and outdoor adventures are a few of the options you will find when deciding where to stay.
Earthshine Mountain Lodge
Earthshine Lodge has all-inclusive family packages that include a storybook room and private bath, three all-you-can-eat, country-style meals a day, appetizers and beverages and participation in any lodge events and activities. The lodge focuses on unplugging and getting away from technology and back into nature. You will not find Wi-Fi or TVs at the lodge. Activities include dances, candle-making and learning about pioneer and Cherokee life. Lodge activities are planned for families and children. Children of any age enjoy participating in the day's events. Guests stay either in the lodge or a cottage. All rooms have a private bath. Children under two stay for free.
Earthshine Mountain Lodge 1600 Golden Rd. Lake Toxaway, NC 28747 828-862-4207 earthshinelodge.com
The Grove Park Inn Resort and Spa
This resort is a historic inn with a history dating back to 1913. The Inn has maintained much of its character through the years and decor includes details like copper door pulls and heavy oak furniture. The rooms are all unique with different designs. Some are theme rooms like the Fabulous Fifties and Swinging Sixties. The spa includes all the necessities for luxurious pampering including waterfalls and underwater music. The 18-hole golf course has been around for over 100 years and has won awards from Golfweek Magazine. In order to enjoy the all-inclusive aspects of the resort, guests need to buy a package that suits their needs. The Girlfriend's Getaway package includes breakfast and dinner, either in the room or at the buffet, and spa passes.
The Grove Park Inn Resort and Spa 290 Macon Ave.
Asheville, NC 28804 800-438-5800
groveparkinn.com
Pinehurst Resort
Pinehurst Resort has many facilities for guests including a spa, fitness center, tennis courts and eight golf courses. The resort was founded in 1985 and has 427 rooms on 2,000 acres. Children's activities include swimming, a playground, Kid's Club, Beach Club and other sports. Golf, spa, recreation and seasonal packages are available for guests. The Luxury Spa package includes breakfast and dinner, a 50-minute spa treatment each day and discounts on any other spa services. Recreation packages include tennis and romance packages.
Pinehurst Resort 80 Carolina Vista Drive Village of Pinehurst, NC 28374 800-487-4653 pinehurst.com