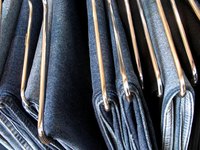 Since women come in a variety of shapes and sizes, the key to looking your best is to understand your body type and dress appropriately for it. Luckily, plus-size clothing for chunky women has come a long way since the days of stretchy pants, tent dresses and oversized shirts. If you're a chunky woman, you can wear many styles of clothing that will flatter your figure instead of highlighting its flaws.
Start at the Beginning
Start with the right undergarments. A bra that's too tight will create undesirable lumps and bulges as well underwear with stretched elastic. Invest in a well-fitting bra and shape wear that tucks your tummy. This will automatically make the clothes you already have look better on you.
Embrace Your Size
You may not be happy with the size you are, but learn to at least accept it. Don't try to fit into the pants, dress or tops that fit you years ago. Pick clothes that fit but aren't too big, either. Undersized or oversized clothes do you no favors. Try on all different sizes of clothes until you find something that grazes your skin and pick that. Ask for help from sales associates or a friend if you're unsure.
Pick the Right Shapes
Learn how to pick the right shapes for your body. This can be difficult, but a few basic rules go a long way. Wide-leg jeans and trousers will be more forgiving of heavy thighs than clingy, flared or skinny pants. Ignore what style is trendy at the moment and opt for what is classic. A-line skirts that hit at the knee will make your legs look longer, your stomach look flatter and your hips look narrower. Stay away from tight pencil skirts, tulip skirts or full skirts. They will overwhelm your figure.
Learn to Layer
Layering doesn't mean the extra fabric will add extra pounds. Often, it can do just the opposite, especially if you're top-heavy. If you want to wear a bright top, add a lightweight jacket or cardigan on top in a dark color that matches your pants or skirt. This will create an illusion that will make you look thinner. Pick jackets and cardigans that hit at your waist instead of ones that are too cropped or too long--these aren't the most flattering for your size.
Pick the Right Fabrics
Anything in your closet that is shiny, super stretchy or too thin will add weight to your figure. Pick fabrics that have a little structure to them instead of flimsy cotton or lightweight polyester. The structured fabrics will prevent clothes from clinging onto pudgy areas.