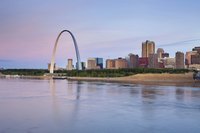 Move beyond the bouncy houses and balloon animals when planning a kid's birthday party in St. Louis, Missouri, and instead choose to host your event at one of the marquee attractions throughout the city. Many of these venues provide children with a bevy of party perks, as well as the opportunity to learn or burn off excess energy.
Nature Calls
Tucked away in Forest Park, Saint Louis Zoo measures 90 acres and is home to more than 800 animal species. Private birthday parties at the zoo include dessert, beverages and animal-themed crafts and games -- the guest of honor even gets to adopt an animal in her name. Packages, which accommodate upwards of 30 people, include perks such as live animal feedings and VIP admission or tours to specific exhibits. The 79-acre Missouri Botanical Garden has a children's garden with caves, a steamboat and tree house, and a massive greenhouse with waterfalls, an aquarium and orchids. Birthday parties for up to 20 kids are held at the Butterfly House on the weekends for those up to age 8. Packages include decorations, crafting activities, goody bags and a special gift for the guest of honor.
Educational Institutions
City Museum has been described as a mixture of a children's playground, fun house and surrealistic pavilion, complete with such unique sights as an aquarium with an underwater tunnel, circus performer classes and mazes that connect rooms. Book one of the birthday party rooms, with a capacity of 20 and 30 people, respectively, for four hours between September and April. Packages include museum access -- with a buffet as an add-on feature. In addition to science-related exhibits, the kid-friendly Saint Louis Science Center is home to an IMAX theater and planetarium. Book the venue's private party space for up to 20 kids, and you'll receive lunch and birthday cake. Choose a special theme for your party, and you'll receive such perks as a chemistry show, a discussion on dinosaurs and on-site science experiments.
Play Time
Plan a birthday party for your little slugger at Busch Stadium, home to the St. Louis Cardinals. Rent out the stadium's U.S. Cellular Family Pavilion available on nongame days from mid-March through mid-November. Rental fees for a four-hour span gives kids access to the area's batting cages, pitching games, playground and video games. The pavilion can accommodate up to 200 guests. Swing-A-Round Fun Town is a family entertainment zone in St. Charles, 30 minutes northwest of St. Louis, with an arcade, batting cages, bumper boats, go-karts and mini-golf. The venue has a private party room for rent, where basic amenities include food, a prize wheel and small treats. Added package features include tickets to many of the attractions.
Arts and Museums
Kramer's Marionnette Theatre is a puppetry troupe with performances geared for children. After taking in a show featuring such characters as Charlie the Caterpillar, Betsey the Bee and Susie the Ostrich, up to 22 kids can retreat to a private party room. You can order Charlie the Caterpillar cupcakes specifically for the party as well. The Magic House, St. Louis Children's Museum is a large facility where hands-on exhibits let kids explore such topics as music, magic, gardens, science and math. All birthday packages include free museum admission and parking. Add-on party amenities include treat bags, T-shirts and refreshments. Some packages will also reserve specific exhibits exclusively for your private party of up to 50 for one hour.