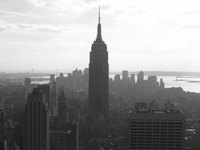 Members of the military make significant sacrifices to fulfill their duties. In turn, businesses often show their gratitude by offering military discounts. If you are a member of the military and are planning a trip to New York City, you will find that many major tourist attractions offer discounted or free admission to military members. The New York City USO (United Services Organization) also facilitates discounts and provides coupons to attractions and has two service centers within the city.
American Museum of Natural History
The American Museum of Natural History offers free admission to military members. The museum has a wide range of changing exhibits exploring fossils, space travel, cultural history, animals and more.
American Museum of Natural History 79 Street And Central Park West New York, NY 10024 212-769-5100 amnh.org
Bronx Zoo
The Bronx Zoo offers a partial discount for military members and their families (up to three people). The Wildlife Conservation Society operates the zoo, which is the largest city zoo in the country. Type in the code "USONYC" when ordering online to receive the discount.
Bronx Zoo 2300 Southern Boulevard Bronx, New York 10460 718-220-5100 bronxzoo.com
Broadway Shows
The New York USO frequently offers complimentary tickets to military members to attend Broadway shows. Visit the New York USO's website to see if tickets are available. The USO also keeps an updated listing of military discount codes for purchasing from the box office.
NBC Studio Tour
The New York USO also offers coupons for the NBC studio tour in Rockefeller Center. Tour participants learn about the history of NBC and visit the studios of several shows, including the "Today Show" and "Saturday Night Live." Coupons are available at a USO service center.
NBC Universal 30 Rockefeller Plaza New York, NY 10112-0037 212-664-4444 nbc.com
Empire State Building
Members of the military receive discounts on ticket prices to visit the observatory in the Empire State Building, the famous Art Deco skyscraper. It has 102 floors, and the observatory offers panoramic views of the city.
Empire State Building 350 Fifth Avenue New York, NY 10118-3304 212-630-0339 esbnyc.com
Ground Zero Museum
The Ground Zero Museum sells tickets to military members at a discounted rate. The museum chronicles the terrorist attack on the World Trade Center in 2001. Type the discount code "military" when ordering online.
Ground Zero Museum 420 West 14th Street New York, NY 10014-1064 212-209-3370 groundzeromuseumworkshop.com
Intrepid Sea, Air and Space Museum
Members of the military get in free at the Intrepid Sea, Air and Space Museum, which is housed in the World War II aircraft carrier. The museum highlights American history, scientific discovery and military service.
Intrepid Sea, Air and Space Museum Pier 86, W 46th St and 12th Ave New York, NY 10036 877-957-7447 intrepidmuseum.org