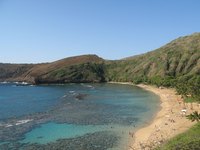 The island of Oahu is steeped in military history and tradition, which continues to this day with the Joint Naval and Air Force Base Pearl Harbor-Hickam. For current and former soldiers visiting Hawaii, the base and the military monuments in the area, many hotels lie within just a couple of miles of this expansive military facility and downtown Honolulu, some of which offer discounted rates for members of the military.
Pacific Marina Inn Airport
The Pacific Marina Inn Airport puts guests 1.5 miles from the terminals at Honolulu International Airport. Guest rooms and suites feature free wireless Internet access, private balconies and cable television; suites also have refrigerators and sofas. The hotel's outdoor swimming pool and sundeck are surrounded by tropical foliage and sit within the inner the courtyard. Its on-site restaurant serves American cuisine; the separate lounge offers drinks and cocktails. Guests can enjoy the convenience of the hotel's complimentary airport shuttle service. This hotel offers special military discount rates that vary throughout the year.
Pacific Marina Inn Airport 2628 Waiwai Loop Honolulu, HI 96819 808-836-1131 castleresorts.com
Best Western The Plaza Hotel
Located just two miles from the Hickam Air Force Base, Best Western The Plaza Hotel offers 274 newly redesigned guestrooms. Standard amenities in all rooms include cable television, free high-speed Internet access, microwave ovens and refrigerators. Guests can relax by the hotel's outdoor swimming pool and sundeck. The on-site restaurant offers American food for breakfast and dinner. The hotel offers a free shuttle service to the nearby Honolulu International Airport. This is a pet-friendly hotel; daily fees apply.
Best Western The Plaza Hotel 3253 N. Nimitz Highway Honolulu, HI 96819 808-836-3636
bestwestern.com
OHANA Honolulu Airport Hotel
The OHANA Honolulu Airport Hotel lies within minutes of both the Hickam Air Force Base and Honolulu International Airport, which is accessible by a complimentary shuttle service. All guestrooms feature a standard layout; they come with free wired Internet access, coffee makers, refrigerators and cable television. On-site recreational facilities include an outdoor swimming pool, picnic area and playground. The hotel's restaurant offers breakfast everyday; it serves dinner only on Tuesday through Thursday. Current and former military members from all nations enjoy discounted hotel rates.
OHANA Honolulu Airport Hotel 3401 N. Nimitz Highway Honolulu, HI 96819 808-836-0661 ohanahotels.com