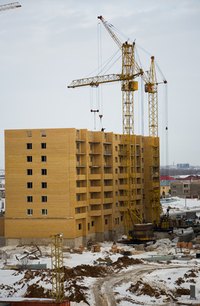 The Massachusetts State Building Code or 780 CMR regulates the construction and renovation of structures in the state. The building code requirements were established by an 11-member board referred to as the Board of Building Regulations and Standards (BBRS). The board has the power to pass new regulations and standards regarding building construction and renovation in conjunction with Massachusetts statutes.
Maintenance
Owners of buildings and structures in Massachusetts must maintain their property in a safe, clean and operational condition. This quality of maintenance should be extended to the building's parts, systems and equipment, whether they are existing or new. Building inspectors who are designated by the chief administrative officer of a city administer and enforce the provisions of the building code. They are also responsible for making reports of their inspections and directing them to the proper authority.
Fire and Electrical Safety
The Massachusetts Building Code requires that buildings are safely constructed to prevent fire and other risks associated with electricity. For instance, water sprinklers and carbon monoxide detectors are highly regulated within the code. Keep in mind that residential buildings and commercial properties often have different regulations because they are used for different purposes. Night clubs, bars and malls must have automatic water sprinklers because they hold large crowds, whereas the average home may be limited to smoke detectors. The Massachusetts building code also regulates electrical wiring in order to prevent fires.
Permit and Fees
A permit is required before construction, alteration or demolition of buildings and structures. Permits are issued after certain corresponding fees are paid to the department or agency of building inspection. Such permit translates to a license to continue building operations. This does not give the permit holder the authority to neglect or violate the provisions set by the state building code.
Classification
All buildings and structures, including their parts, are given classifications according to the type of occupancy. The classifications are also determined in line with the necessary fire, high hazard and hazard safety. Examples of classifications are assembly, business, educational, factory and industrial, institutional, mercantile, residential, utility and storage. Spaces that do not match the main occupancy of the structure should be protected or separated.
Heights and Areas
New buildings or structure areas must have approved numbers and addresses. Such information must be visibly clear and readable for people on the street that is on the front of the property. The limitations for the building height and area are set according to their intended use. Structures that are designed to house low-hazard industrial processes must provide large areas for cranes and other special machinery to pass through.