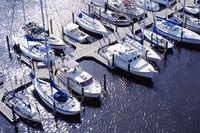 Orange County, California--sometimes referred to as California's Gold Coast--boasts 42 miles of coastline with three large, sheltered harbor areas. Commercial boat slips for both transient and longer term rentals are available through a number of public and privately operated marinas. Residential boat slips, usually behind private homes and in private communities, sometimes become available for rental through specialist harbor brokerage companies.
Newport Harbor
The Orange County Parks Department claims Newport Harbor as "one of the finest small boat harbors in the world." Within this sheltered boat haven, 9,000 boats can be berthed, ranging from row boats to luxury yachts.
The City of Newport Beach, California operates the 172-slip Balboa Yacht Basin, which can accommodate boats from 25 to 75 feet in Newport Harbor. The waiting list for this yacht basin is temporarily closed and boat owners are invited to inquire at the beginning of 2011. The city also maintains an up-to-date, online list of private Newport Harbor marinas and anchorages.
Newport Harbor 18712 University Drive Irvine, CA 92612-2601 949-923-2290 newportbeachca.gov
Sunset Harbor
Sunset Harbor, the boat haven closest to Huntington Beach, has five boat marinas accommodating approximately 3,000 boats along six miles of harbor shoreline. Although the harbor is an Orange County park, boat slips are available through private lessees.
Sunset Aquatic Marina has new, gated docks with boat slips that can take 18 to 100 foot yachts. The marina also has 10 by 30 foot and 20 by 60 foot dry storage facilities and a 24-hour, multi-lane boat launch ramp for access to Huntington Harbor and the ocean. Harbor Patrol and a shipyard are on site.
Sunset Aquatic Marina 2901 Edinger Ave Huntington Beach, CA 92649 562-592-2833 sunsetaquaticmarina.com
Dana Point Harbor
Dana Point Harbor has two marinas which, together, provide boat slips for nearly 2,400 boats. The East Marina has 1,400 slips for vessels from 20 to 85 feet in length. The slips are in protected waters yet only five minutes from open ocean. The West Marina accommodates another 981 boats under the Dana Point cliffs. Slips at the West Marina range from 22 to 55 feet, with end ties for boats up to 65 feet. Electricity, phone, water and cable are available at the slips.
Dana Point Harbor 34624 Golden Lantern St Dana Point, CA 92629 949-923-2255 danapointharbor.com