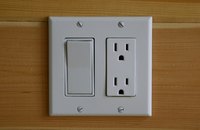 The search for dependable, clean energy is a hot source of debate among Americans, but one thing is certain: Ordinary, daily life depends on energy to perform the most common things like turning on a light, cooking a meal, heating your home or even watching television. Learn about both sides before making a judgment. Wind and coal each have significant, and sometimes surprising, benefits as well as drawbacks.
Advantages of Coal Energy
Coal provides dependable energy and jobs. Coal-fed power plants in 2006 produced significantly less carbon dioxide and had 90% fewer of the top air pollutants that contribute to greenhouse gas, according to the National Center for Policy Analysis. Coal is projected to contribute over $1 trillion to the GNP and secure over 7 million jobs by 2013. Stopping coal in its tracks, as many environmentalists desire, will affect the entire nation. Johns Hopkins University conducted a study in the late 1980s that suggests for each 1% of lost jobs, there is a 2% increase in early death because of the economic impact of unemployment. The ecological benefit of not using coal for energy is countered by the resulting public heath impact and widespread, national economic harm.

Disadvantages of Coal Energy
Coal is not clean. Its pollutants are connected to the greenhouse effect. However, emissions statistics vary from study to study. Carbon Dioxide is a proven result of burning coal. Advances in technology for capturing and reconditioning CO2 before it is released are promising, but implementation could take years. Strip mining wrecks the landscape and removes wildlife natural habitats. However, many conscientious coal mines practice resurfacing and replanting once the mine is depleted. Transporting coal produces even more pollutants, notes Fossil Fuel. Coal is also a dangerous industry, with deaths from mine explosions and health issues like black lung, loss of hearing from heavy equipment operation and spinal problems in miners who spend their work days bent over in areas too shallow to stand.
Advantages of Wind Energy
Wind is free, and constantly renewing. Windmills convert wind into energy without pollutants. The reduction of hazardous emissions by using wind rather than fossil fuels for energy is comparable to reforestation of a square mile, according to NRG Systems. Wind energy is also a source of new jobs, and wind farms go from construction to implementation in a short amount of time. Jobs lost in fossil fuel industries are somewhat offset by wind farm jobs. In time, as the industry becomes more common, the energy costs, which are now comparable to fossil fuel costs, may decrease since wind is a renewable source of energy.
Disadvantages of Wind Energy
Wind farms are large, noisy and wind is not dependable. The noise, which has been compared to jet engines, frightens away wildlife, and windmill blades kill birds in flight. Surrounding property values may suffer because windmill farms are unsightly, notes the American Wind Energy Association. The industry is in its infancy, so costs are still high and efficiency is not ideal. However, as time and technology progress, windmills could become one of the most efficient, cost-effective and environmentally-kind energy sources in the United States.