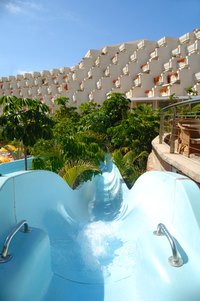 Hotels with inside waterparks make it possible for families to enjoy year-round pool fun. Most inside waterparks not only feature swimming pools, they also have a bevy of slides and water features designed specifically for children's entertainment. While hotels with inside waterparks are becoming increasingly popular across North America, options are still very limited in Florida. However, there are also many hotels with outdoor waterparks in Florida.
Coco Key Hotel and Water Resort
The Coco Key Hotel and Water Resort in Orlando, Florida, has an indoor waterpark and is ideally located for families wishing to enjoy the theme parks in Orlando or travel to nearby beaches. The resort offers special packages throughout the year, such as the Happy Summer Splash Package, which includes one overnight stay at the hotel, two full days of access to the waterpark, and snacks. Plus, kids eat for free at the resort's TradeWinds Restaurant.
The waterpark includes five main water features: Parrot's Perch, Minnow Lagoon and Slides, Over the Falls and Surfer Splash Slides, Coral Reef Cove and Cyclone Body Slide, and Boomerang Double Rider Slide. There is a height requirement for four of the five water features, and children are encouraged to wear a life jacket.
Visitors do not need to be guests of the hotel to enjoy the waterpark; day passes can be purchased as well.
CoCo Key Hotel and Water Resort
7400 International Drive
Orlando, FL 32819
877-875-4681
cocokeywaterresort.com
Walt Disney World Resort
The Walt Disney World Resort is a popular destination for families from around the world. In addition to the four main Walt Disney World theme parks, Disney World also has resorts and hotels with, and adjacent to, the main park. Walt Disney World Resort hotels come with a variety of rates and amenities, including deluxe, moderate, and value resort hotels. The park also offers accommodations for groups of five or more, as well as deluxe villas and camping grounds.
Walt Disney World resort and hotel guests may have access to two waterparks: Disney's Blizzard Beach and Disney's Typhoon Lagoon. Transportation to the waterparks from the resort hotels is available via bus. Both waterparks are primarily outdoors but include indoor features within the parks, such as dining, arcades and shopping. Guests must buy visitor passes to access the water parks, which are available as single day tickets or annual passes. Special offers are also available year-round through the Disney World website.
Walt Disney World Resort 4600 World Drive Lake Buena Vista, Florida 32830
407-939-7675
Clarion Resort & Waterpark and Mindy-O Waterpark
The Mindy-O Waterpark is a main attraction of the Clarion Resort & Waterpark in Kissimmee, Florida. Kissimmee is located a short drive from the Orlando theme parks and Florida beaches, making it an ideal vacation spot for travelers looking to take advantage of different types of Florida activities.
The Mindy-O Water Park is outdoors in the center of the hotel. It has features for adults and children of all ages, including toddlers. Guests can float along 630 feet of Naylid's Lazy River, drop into the three-level Slide Tower and relax in the heated swimming pool. Park admission is less than $20 per ticket, and special promotions are available year-round. Children must be at least 44 inches tall to ride any of Mindy-O Water Park's three slides.
Clarion Resort & Waterpark 2261 East Irlo Bronson Memorial Highway Kissimmee, FL 34744 407-846-2221 clarionwaterpark.com