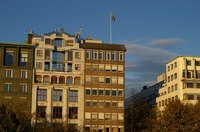 Norwegian small business grants are provided by government entities, as well as private and non-profit organizations. The grants are awarded to provide financial support to individuals for start-up funds or to expand an existing business. Norwegian small business grants help to create a vibrant economy and employment opportunities in local communities. Some grants are offered for business ventures or partnerships in other European countries.
The Research Council of Norway
The Research Council of Norway provides business-related research and development funding; it works in partnership with Norway's Ministry of Trade and Industry. The council awards grants to promote business enterprises. Funding for research and development projects are divided into four main categories: research programs, independent projects, infrastructural and institutional measures, and networking measures. Research and development projects that receive funding are required to submit a progress and final report. The research council also offers funding for doctoral and post-doctoral candidates in business-related fields.
The Research Council of Norway P.O Box 2700 St. Hanshaugen N-0131 Oslo, Norway 011+47-22-03 -7001 forskningsradet.no
Government of Norway
The government of Norway awards sources of funding for business projects throughout the country. Funds are made available in partnership with the European Economic Area (EEA) initiative, which helps to promote business projects across Europe. The goal of the fund is to reduce economic disparities between European nations by integrating countries like Slovakia, Slovenia Poland and Hungary into a unified economic partnership. Individuals can partner with specific countries to develop enterprises in areas like environmental and sustainable development, health, education, and cultural heritage. The government of Norway seeks participants who wish to collaborate with beneficiary states; funds will be provided according to programmatic priority.
Government of Norway Einar Gerhardsens plass 3 Oslo, Norway 011+47-22-24-9090 regjeringen.no
Innovation Norway
Innovation Norway is a government financial assistance program, which helps to develop innovative business projects throughout Norway. The agency is a branch of the Norwegian Industrial and Regional Development Fund; it also works alongside the Norwegian Trade Council and Tourist Board. The agency helps to promote entrepreneurial projects and bring tourism into the region. In addition to providing grants, Innovation Norway also offers low-risk loans with partial write-offs to qualified applicants. Grants are made available to private individuals who wish to invest in a new business enterprise that has growth potential. There are two grants in this category: founder grants and incubator grants.
Innovation Norway Pb. 448 Sentrum
Akersgata 13
0104 Oslo
011+47-22-00-25-00 innovasjonnorge.no
European Investment Bank
The European Investment Bank provides loans and grants to fund business projects throughout Europe. In addition to supporting business enterprises, the bank also provides grants to help countries develop eco-friendly infrastructure projects like renewable energy and green house gas reduction technologies by contributing to development projects throughout Europe.
European Investment Bank 98-100, boulevard Konrad Adenauer L-2950 Luxembourg 011+352-43-791 eib.org