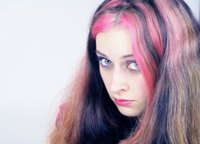 If you're in junior high or high school, you're probably trying to find out who you are and want to try different looks and styles. However, your school may have policies against certain things, such as coloring your hair. Many public and private schools won't allow "distracting" colors like pink, green and blue, and students who disobey the rule could may face suspension. Instead of wishing for a policy change, work with the rules and drastically change your hair color in ways that won't get you in trouble.
Natural Shades
If your school has a policy against hair-coloring, usually natural shades are still acceptable. Although it may not seem drastic, coloring your hair a completely different shade or color will give you an all-new look. If you go from brown to blonde, black to auburn, red or blonde to black, your friends and everyone will definitely notice, but the school officials will not punish you.
Highlights
Coming back to school after a long summer off, you probably will want to show friends how much fun you've had. While your school may not allow a bright pink 'do, simple highlights are usually allowed and show your friends that you were out in the sun having fun all summer. Highlights can also brighten your face and add a voluminous look to your hair.
Bottom Layer
If you really want to dye your hair a bold color that your school will not allow, consider dying only the bottom layer if your hair is long. You can easily disguise the change by wearing your hair down, and pull it up when school official aren't around and on weekends to show everyone your bold hair-color statement.
Koolaid
If you want to challenge your school officials and show up with a full head of bright green hair, consider using powdered drink mixes instead of standard hair dye. If your teacher sends you home or threatens suspension, simply wash your hair in the locker room and the dye will be gone. Another bonus to using this method is that you can change the color frequently and it won't damage your hair.